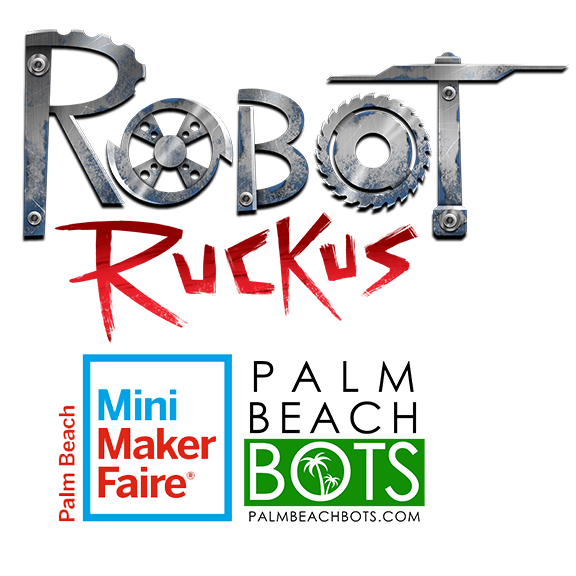 Robot Ruckus at Maker Faire Palm Beach
West Palm Beach, FL, US
May 21, 2022
Robot Classes / Competitions
Category
Robot Class
Maximum
Capacity
Currently
Registered
Waiting
List
Entry
Fee
Pit Crew
Allowed
Combat
1 lb - Antweight
Unlimited
None
None
Unlimited
Combat
3 lb - Beetleweight
Unlimited
None
None
Unlimited
Event Description
Robot Ruckus at Maker Faire Palm Beach
Robot Fighting is a marquee event at Maker Faire Palm Beach and we've moved to a bigger area this year on the ampitheatre stage allowing for full brackets in both Ant/Beetle classes.  Feel free to waitlist, if schedule permits we may expand the classes. 
Event Info:
Classes: Ant, Beetle
Each bot per class must have a dedicated driver, you cannot enter two bots in the same class with the same driver.
Entry fee is $20 per bot in all classes, cash at event. Must register in advance on RCE.
Prizes: Whatever neat stuff we can come up with. Also, cash prizes awarded as a split based on entry fees collected
Pits will be arranged as best as possible to house all teams.  Target is one table per team.  
Power will be available, bring extension cords, power strips, lipo bags etc
Parking is free and all teams are granted entry into the Maker Faire.  
There will be food vendors on site.  Usually the Chick Fil A truck is there :)
Pre-Event email will have any more specific instructions.  

Palm Beach Bots

is sponsoring and will be on site with parts and kits to get you thru the fights.  
Schedule:
Load In/Safety 830AM-930AM.
Fights start PROMPTLY at 10AM and run through roughly 4PM. The fair closes at 4PM. 
It's a short day so we will be prompt on the schedule, we're an attraction for the crowd.  
Rules:
We'll be following the SPARC ruleset with the following points of emphasis:
No fire weapons
Exposed batteries are automatic forfeits
One postponement
One unstick per fight (if you become unintentionally stuck)
No entanglements
Tapouts are allowed
Match length: TBD day of event, will be either 2 or 3 minutes depending fight volume
Double Elimination with a single final fight
Most Important Rule - **HAVE FUN**
VOLUNTEERS WELCOME:  We're happy to have any available volunteers help with the event.  If you have family/friends coming that aren't fond of sitting in the pits all day playing games on their phone we can always use help.  Pit Runners, Judges, Safety, and possibly announcers.  Please reach out directly to andyholzemer@gmail.com if interested. 
Other Events by Robot Ruckus
Event
Date
Location
Robots
Robot Ruckus 2023

REGISTRATION OPEN

Nov 4, 2023
Orlando, FL, US
180 Robots
Robot Ruckus 2022
Nov 5, 2022
Orlando, FL, US
91 Robots
Robot Ruckus at Florida Supercon
Jul 9, 2022
Miami Beach, FL, US
Robot Ruckus at Maker Faire Palm Beach (This Event)
May 21, 2022
West Palm Beach, FL, US
Robot Ruckus: December Destruction
Dec 11, 2021
Miami, FL, US
Robot Ruckus 2021
Nov 14, 2021
Orlando, FL, US
100 Robots
Robot Ruckus Awesome Autumn Aggression
Sep 11, 2021
West Palm Beach, FL, US
31 Robots
Robot Ruckus Summer Season Spectacular
Jul 18, 2021
Kissimmee, FL, US
Robot Ruckus at Maker Faire Orlando
Nov 10, 2019
Orlando, FL, US
126 Robots
Battles at Maker Faire Orlando 2018
Nov 11, 2018
Orlando, FL, US
113 Robots
Battles at Maker Faire Orlando 2017
Oct 22, 2017
Orlando, FL, US
69 Robots
FAMiFights
May 25, 2017
Longwood, FL, US
10 Robots
FAMiFights
Mar 18, 2017
Longwood, FL, US
33 Robots
Battles at Maker Faire 2016
Oct 23, 2016
Orlando, FL, US
62 Robots
The information displayed on this page was written and is managed by
Robot Ruckus
.