Today is the day! I'm excited to launch the new Builders Database, a completely re-imagined version of the site that has served the robot combat community for 20 years. When I announced I was shutting down the old site, so many people reached out that it renewed my enthusiasm for the site and the sport, and I couldn't face the idea of shutting down. I've spent the past two months building this all new site completely from scratch with modern technology, features, and privacy.
The goal is to to serve the community by showcasing the robots, teams, builders, and events with the excitement they deserve, while acting as a proper landing page to new builders as well as seasoned veterans. As a builder, you now have the ability to create beautiful profiles for yourself, your team, and your robots. As an event organizer, you can showcase your event and host registration with a custom-branded page that lays out all the information in one place.
We all know the best way to get more people involved with the sport is to have them engage with the community and visit an event themselves. The site is designed with that in mind -- to help new builders find teams and events nearby. There is much more to come as I continue to build out all of the features, but hopefully this is an exciting new way to share what you've been working on and get more people excited about our sport!
Scroll down to read more, or feel free to shoot me a message if you have any questions, comments, or concerns: marc@uiproductions.com
-Marc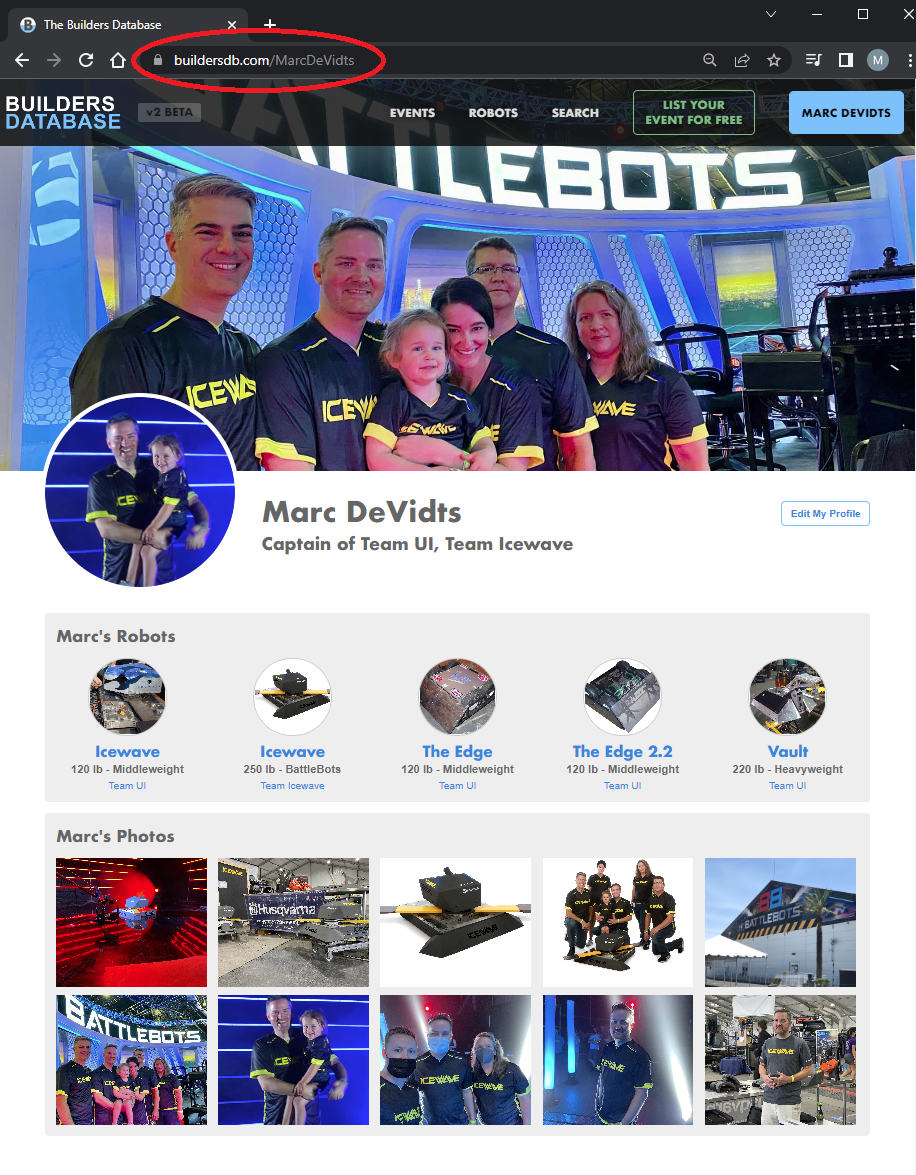 User Accounts
One big change with the new site is that each person now has an account, rather than each team. This means you can manage your own personal inforamtion and your team without needing to share a password with your teammates. Whether you have one team and robot, or you manage multiple teams and organize your own events, you do it all from your own account. If you need help consolidating multiple records into one account, or you need your account linked to manage an event you organize, please email your request so we can get it sorted out.
Builder Profiles
On the left you'll see an example of the type of builder profile you can now create! You can customize your profile by adding a cover image, deciding what you want to be displayed, and upload even more photos into your gallery. Of course, you can always choose to completely hide your profile as well.
Custom URLs
Now you can also claim a custom URL for your profiles, teams, organizations, and events! This provides you with essentially a custom website and easy link to share with your followers. Hurry up and claim yours today to ensure it doesn't get taken.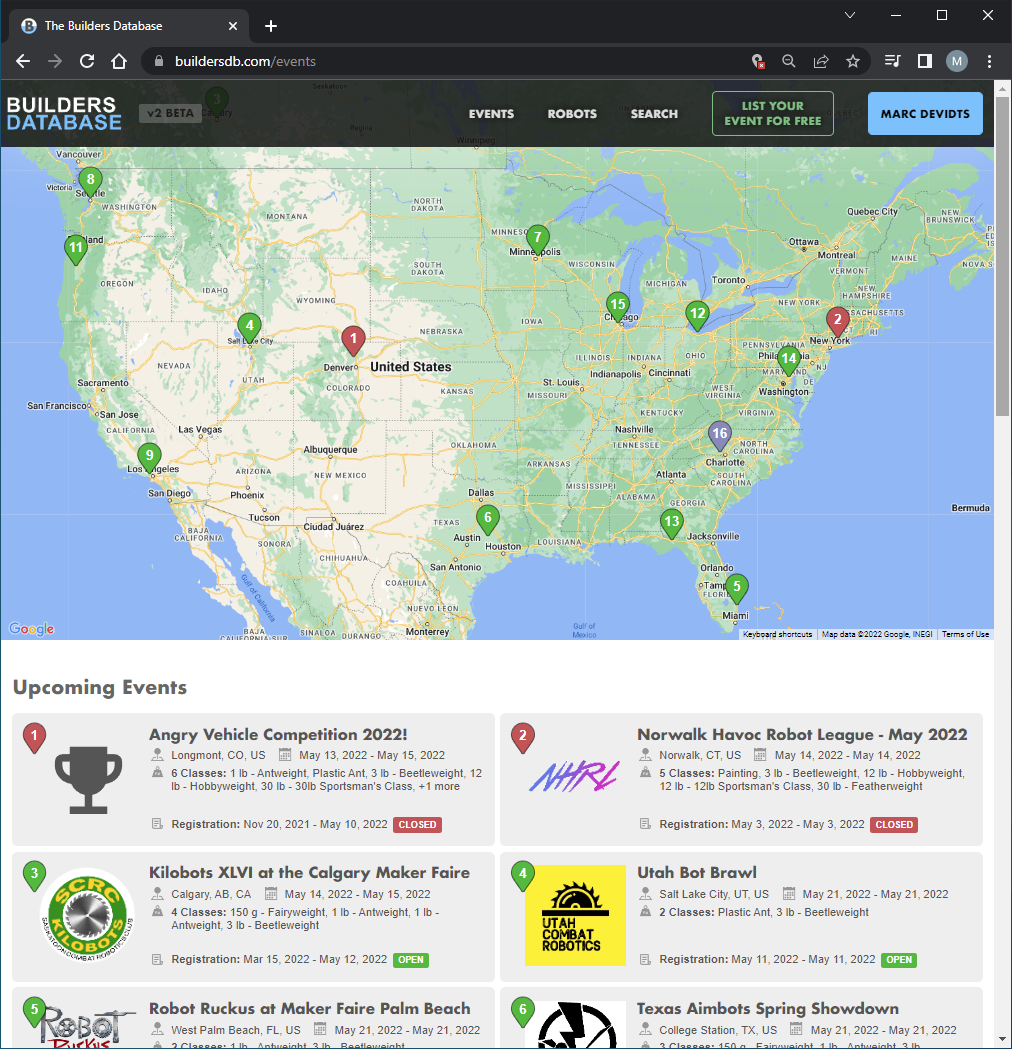 Event List and Map
It is now easier than ever to find an event near you. With the Events Map, you can quickly see upcoming events with open registration thanks to the colored map pins. The events list also gives you a quick overview of the event and which weight classes are hosted. A calendar view, more filters, and better ways to explore past events are also coming soon.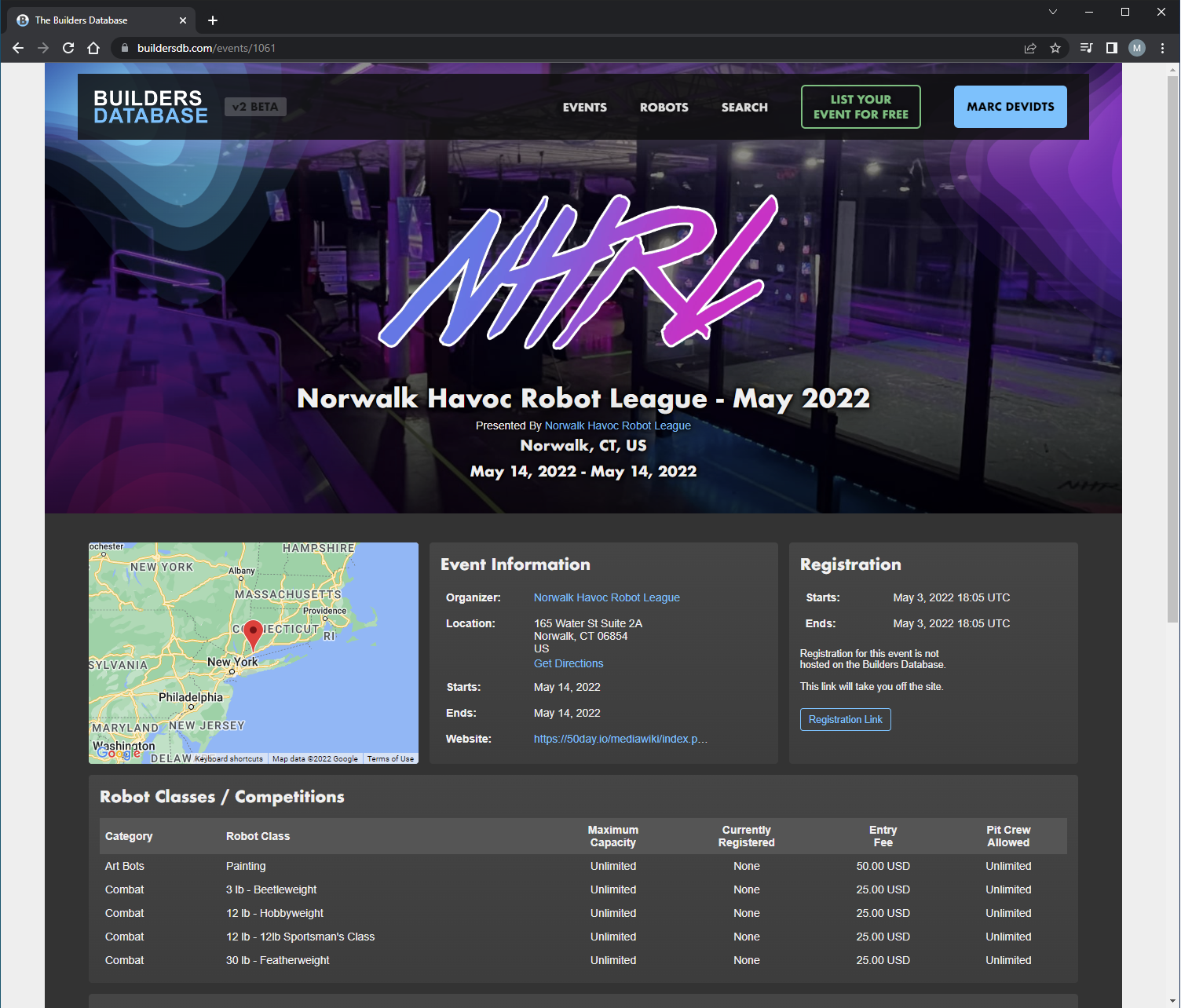 Event Organizers
As an event organizer, you too can create a beautiful page for your events that will give your future competitors all of the information they need. With custom branding options just like builder profiles, you might just decide not to even bother making your own website for your event. Everything can be hosted and managed here in one place on the Builders Database. Listing your event and hosting your event registration on the Builders Database is completely free for event organizers and builders.
Beta Site and Maintenance Schedule
The new site is very much still a work in progress. If you spot something that doesn't look right, please let me know. The site may be down for daily scheduled maintenance from 11PM to 2 AM Pacific, and might experience downtime throughout the day to fix urgent bugs.
Future Plans
This launch covers most of the basic features of the site, but plenty more are coming soon. Please keep an eye out for updates and feel free to send me your feature requests and feedback.