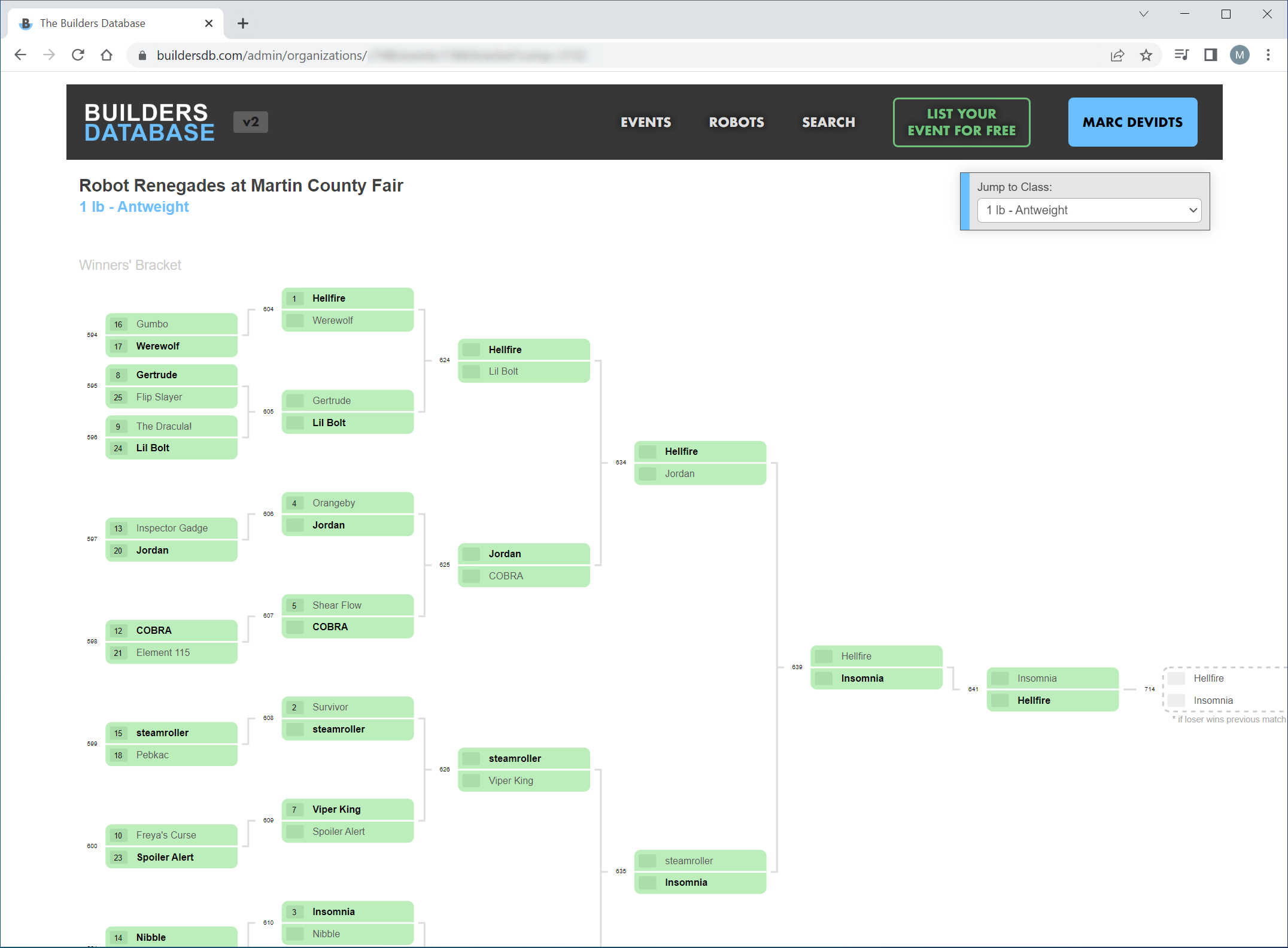 Although I've been constantly updating and improving the site since the re-launch, today I'm excited release something big: Event Management.
Now you can manage all aspects of your live tournament from one place, and everything is automatically linked! As an event organizer, importing and exporting from various systems is a terrible waste of time when you're in crunch mode the night before the event. With the Builders Database Event Management system, all of your event data is automatically populated from registration!
Manage your team check-in and robot safety stations without paper.
Populate your tournament brackets with only the robots that have checked in.
Robot photos are shown on the judges' scorecard for easy identification.
Share links with your competitors so they can see live updates.
If you are an event organizer, please take a look at the screenshots below to learn more about the system. Scroll down to read more, or feel free to shoot me a message if you have any questions or comments: marc@uiproductions.com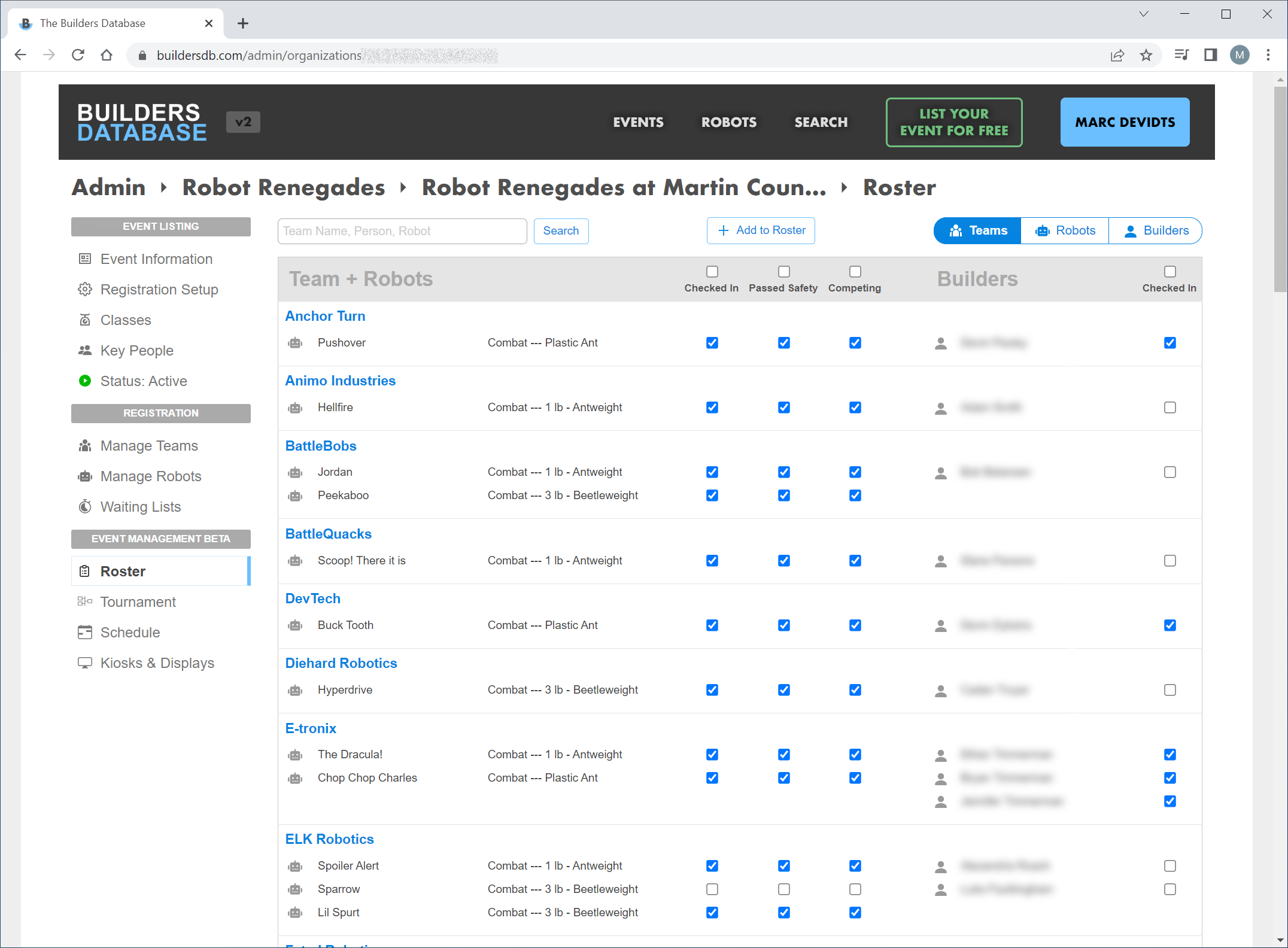 The Roster
When competitors arrive to your event, your event staff can marked them as checked-in on the Roster. If a team has brought an extra robot or needs to withdraw a robot, this is easy to adjust from the roster.
You can quickly search for a team, robot, or builder to keep check-in flowing quickly. You can also show the full team information, or just robots or builders, to quickly sort through which robots in each class are attending.
The roster can also be provided to your safety inspectors, who can mark robots as 'passed safety' in real time. When you are ready to generate the tournament brackets and schedule, you can easily see who is attending and who is a no-show.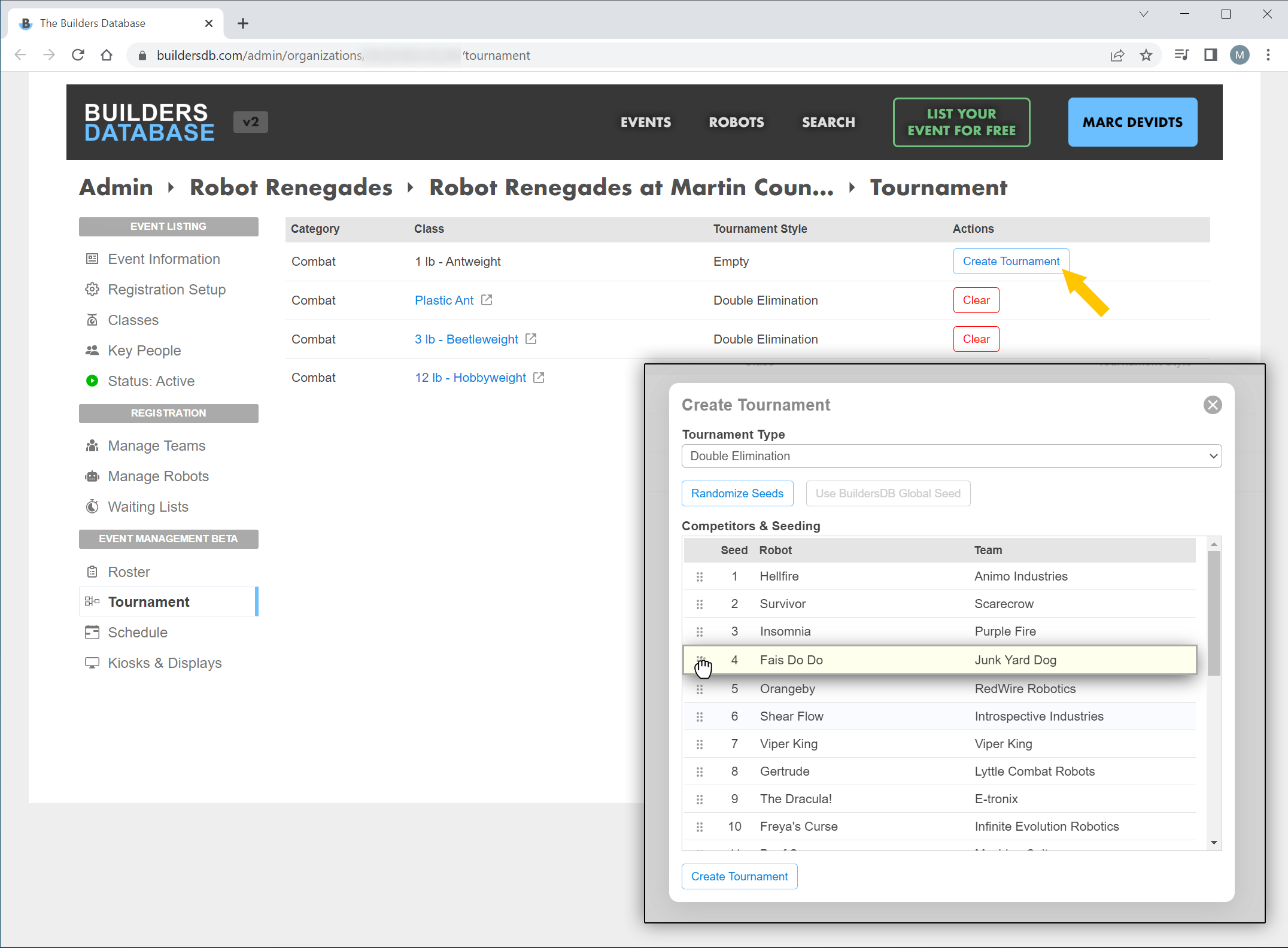 Tournament Brackets and Fight Cards
Once you have marked who is competing, you can generate a tournament for each weight class / competition. Choose from Single Elim, Double Elim, or Round Robin style tournaments (more coming soon!).
Adjust your first-round seed order by simply dragging a robot up or down, or you can choose to randomize the first round, and your tournament will be automatically generated!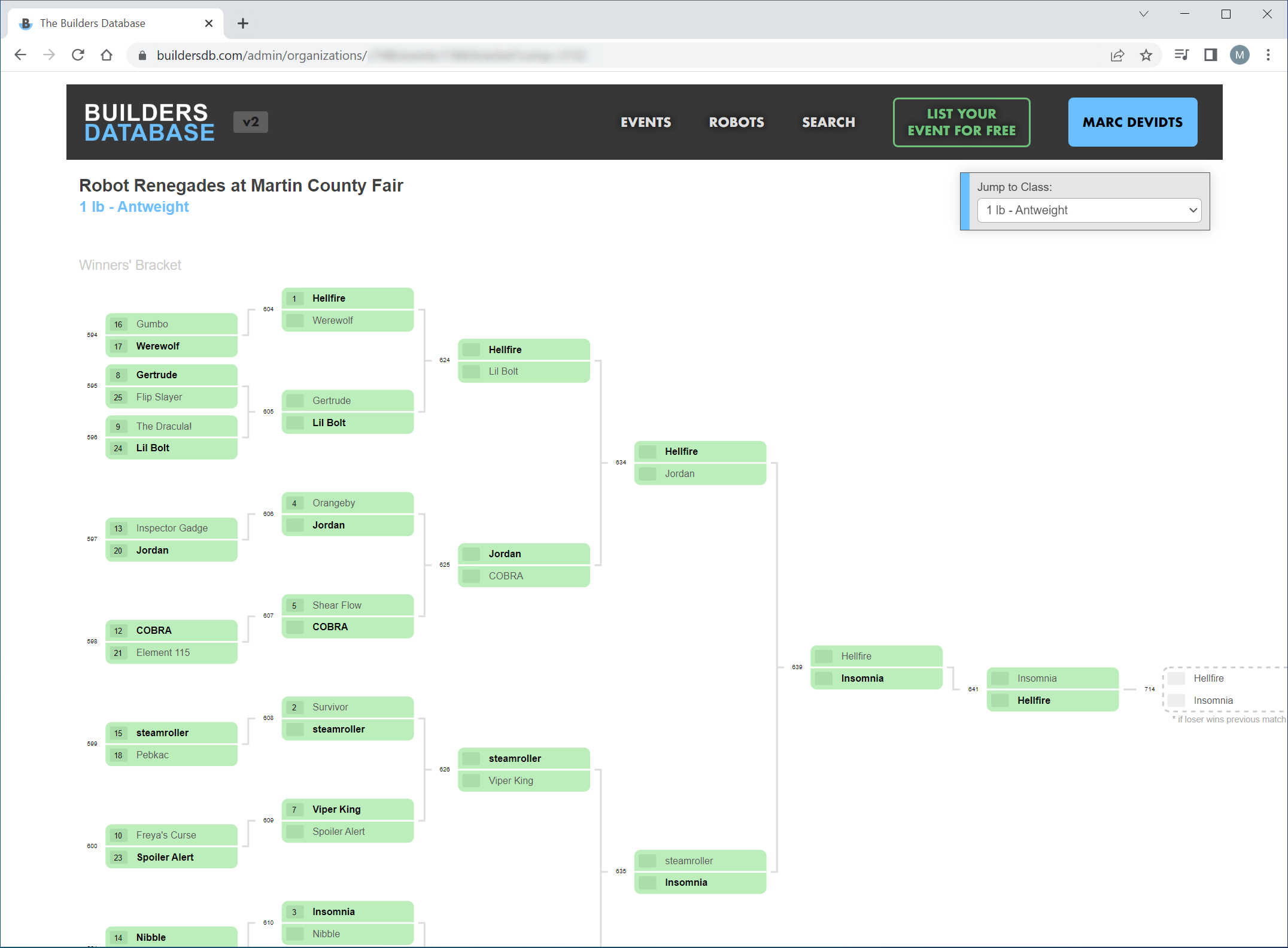 Tournament Brackets and Fight Cards
Once your tournament is created, you can view the matchups by clicking on the weight class / competition! The tournament brackets behave exactly like Challonge, except the match order is global across your entire event. This is important because it allows the Builders Database to arrange all of your weight classes in one schedule with the optimal fight order (more on this below).
From here, you can simply click on a match to view the judges screen and enter scores, if you prefer working off the bracket. Below I will show you how to view and score each match from the schedule page.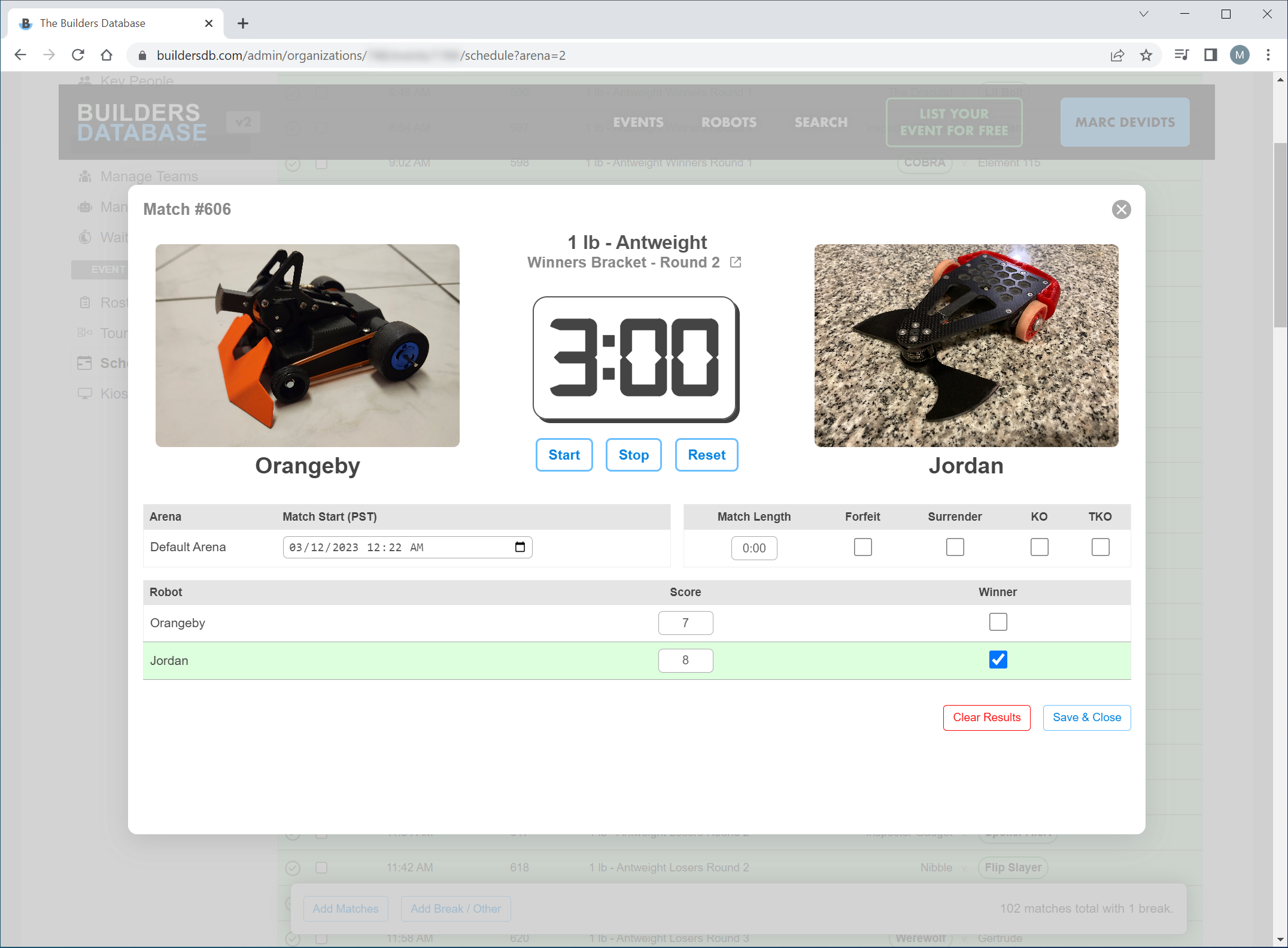 The Match Scorecard
Clicking on a match in either the bracket or schedule will show the match scorecard. This is where your judges or staff will enter match results, and the winner/loser will automatically progress to the next position in the bracket.
On the match popup, you can quickly see who is fighting with photos fed directly from the team's registration. You also have a simple match timer, which you can use to track match length.
Stay tuned for more connectivity and real-time screens for arena controls coming soon, or write to me (marc@uiproductions.com) and let me know what integrations you're looking for!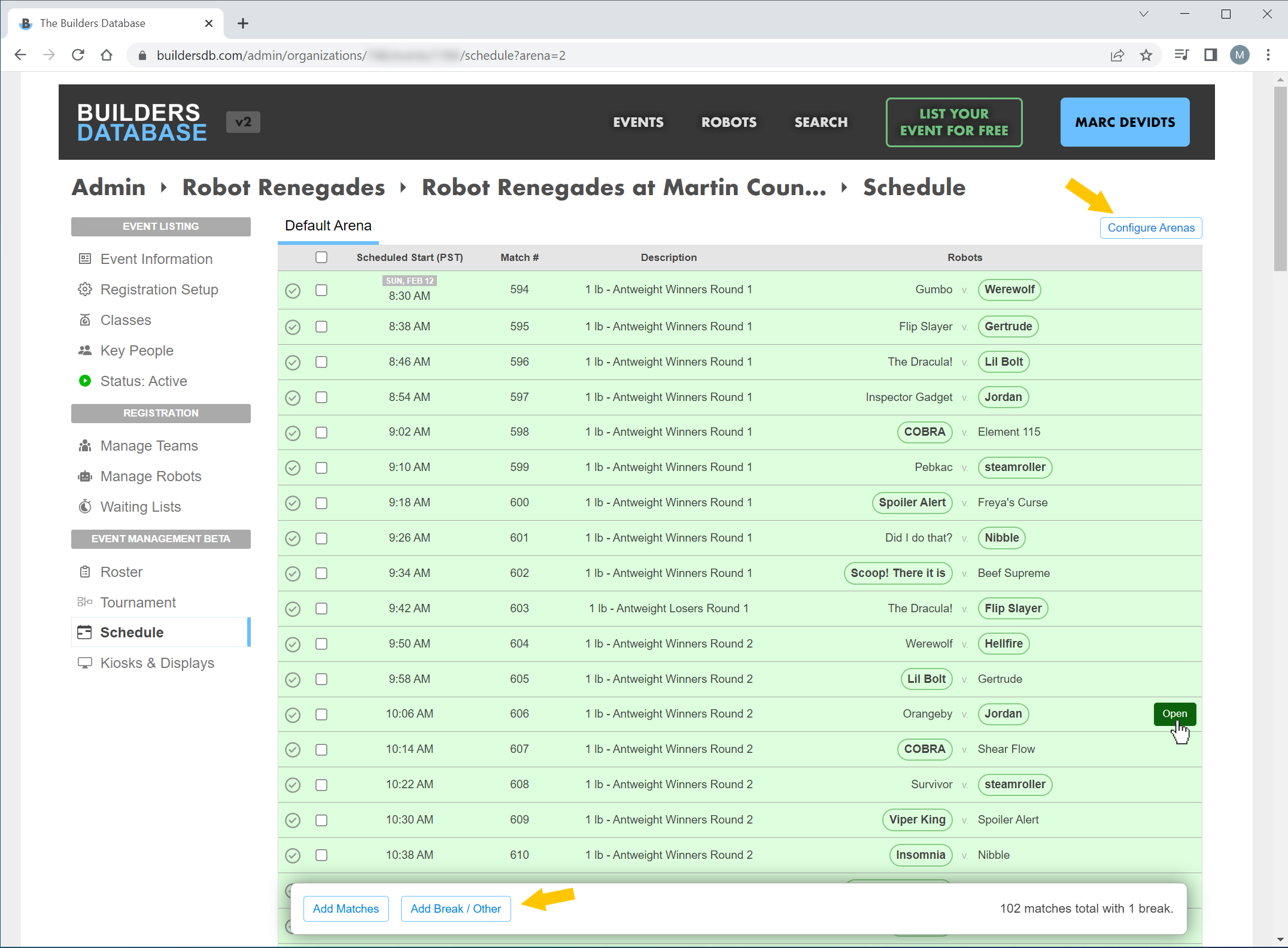 Fight Schedule
To take your event management one step further, the Builders Database provides a full scheduling system! Scheduling matches in the optimal fight order is as simple as clicking a button.
Rearranging your schedule is easy and quick when robots request a postponement or something changes. Just drag and drop to rearrange the fight order and push out the match.
You can also open the match scorecard from the schedule, so your judges and staff know which match is coming up next before the robots even arrive in the arena!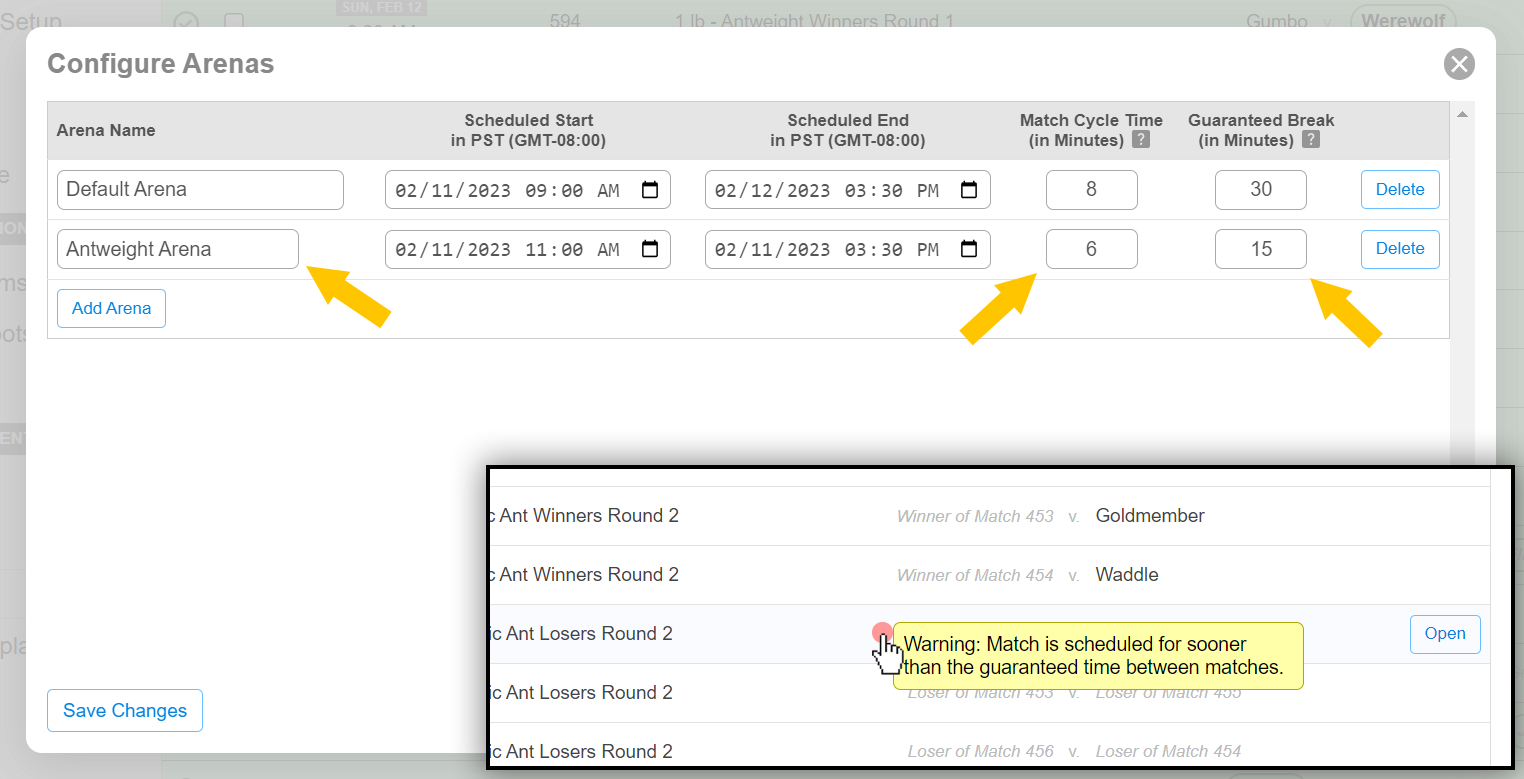 Run Multiple Arenas Simultaneously
You can also run multiple schedules simultaneously if you have multiple arenas! Configure your arena start and end date/time and enter your goal for how quickly you want to turn over matches. The system will schedule with this goal in mind, but allow you to make changes as the schedule progresses.
You can also specified a guaranteed amount of time given to each robot before they fight again. The schedule page will warn you if you have a conflict so you can choose to move matches around if needed.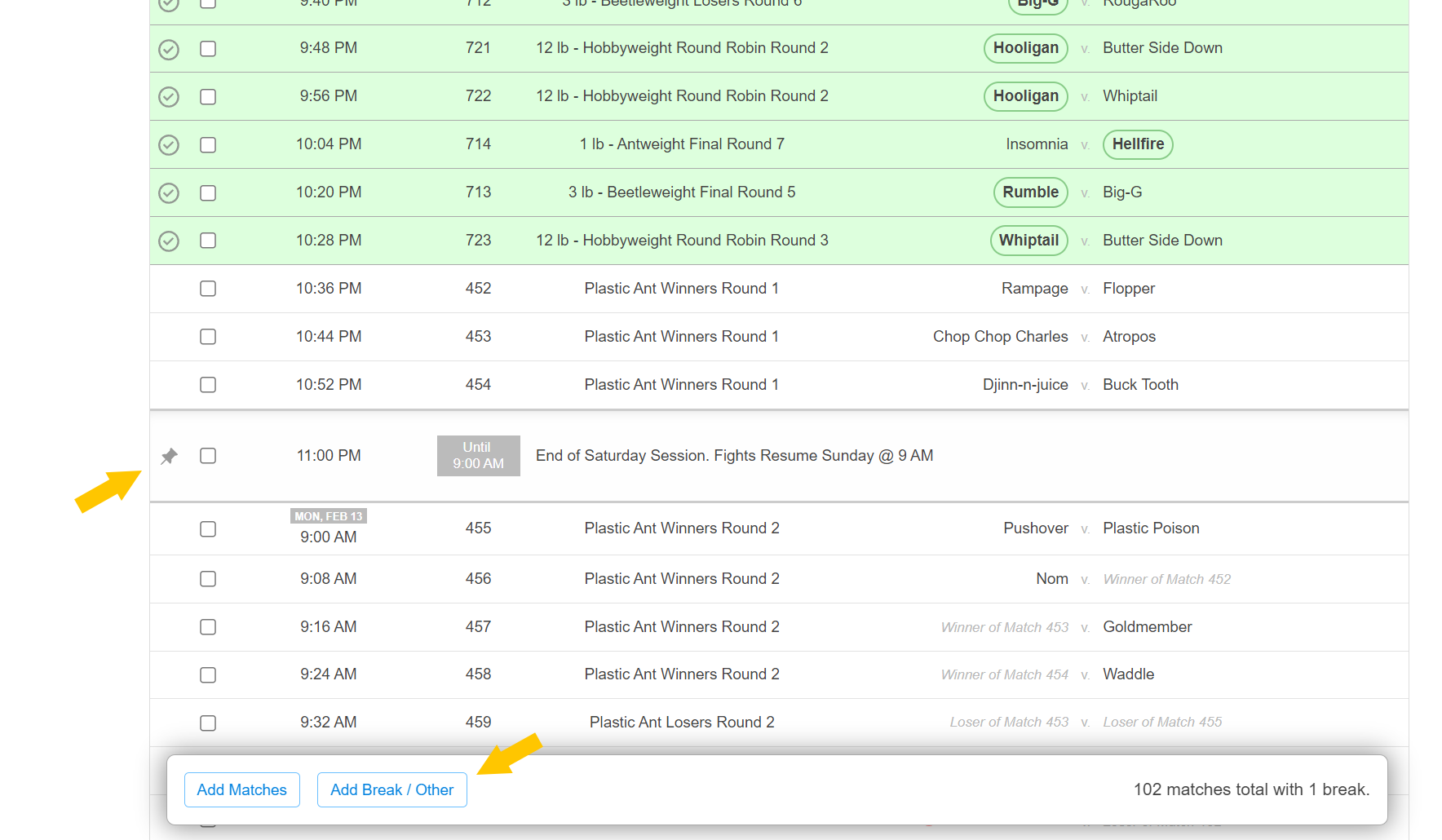 Breaks and Sessions
You can easily add breaks to your fight schedule, and you can use breaks to create a hard-end to your daily sessions. Breaks can be fluid, with the break time moving around as the schedule gets adjusted. Breaks can also be set to a fixed time regardless of schedule changes.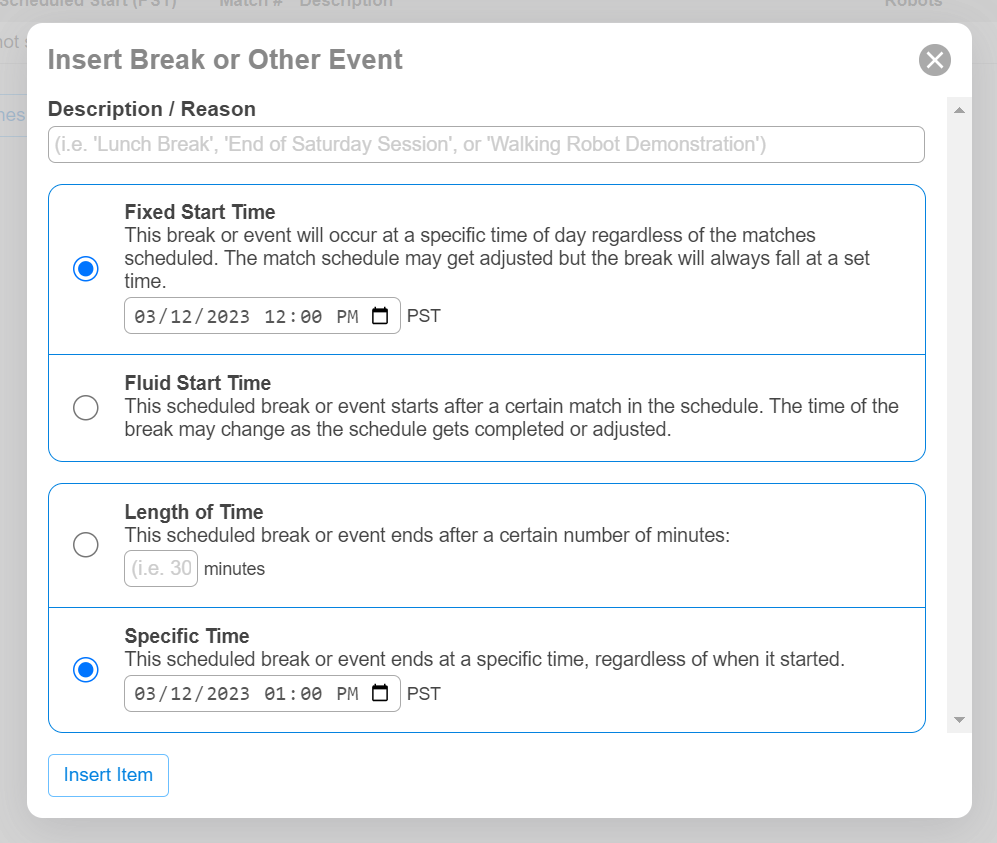 To end a session, you can add a fixed break that resumes at a specific time, such as after lunch or the following day. If your event runs slower than anticipated, matches will automatically get pushed to after the break.
If you want to get through a specific set of matches in one day no matter how long it takes, you can create a fluid break that resumes the following day.
Try it for yourself right now!
I hope you're as excited about this launch as I am. The features I desribed are above are all live right now on the site for you to use. Of course, the features work best if you host registration with the Builders Database, so please consider that when you are launching your next event.
I have spent a lot of time trying to design a system with the features I would want based on my experience as an event organizer. I hope this system helps ease some of the burden of running your event, letting you focus on the fun parts. As always, the site is a work in progress, so please don't hesitate to send your feedback (marc@uiproductions.com). Many new features will be coming soon, so stay tuned here for updates!
All new events launched on the site starting today will include Event Management automatically, but if you want to add it to an existing event and you do not see the new Event Management tab in your admin system, please email me: marc@uiproductions.com.
-Marc