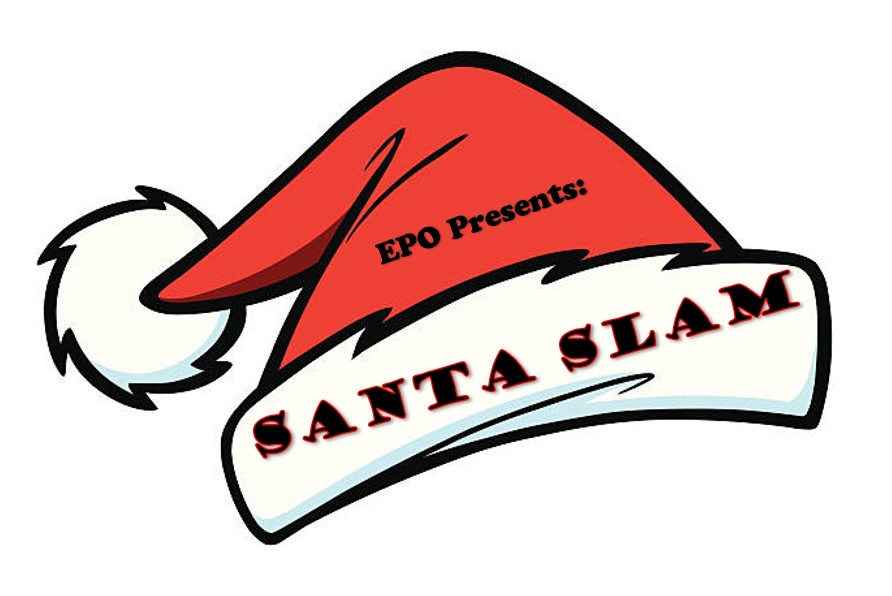 Santa Slam 2020
Houston, TX, US
December 5, 2020
Event Information
Organizer:

High Adrenaline Combat Robotics




Location:

3753 Fondren Rd B
Houston, TX 77063
US
Get Directions

Starts:

Dec 5, 2020

Ends:

Dec 5, 2020
Event Description
Description:
This event will be fought outdoors in the parking lot of Electronic Parts Outlet. There will be 3 weight classes consisting of 150 gram, 1 lb, and 3lb. The arena will be 6 ft x 6 ft with a wooden floor and sufficient ventilation for internal combustion engines.  
Time:
Safety will begin at 11:00 AM. Event set up will start at 9 AM should you want to help. Matches are planned to start at 1 PM with brackets on Challonge.
Entry Fees:
Elves – 150 gram - $10

Reindeer – 1 lb - $15

Abominable Snowmen – 3lb - $20
Robot Requirements:
The robots are to meet the SPARC robot construction requirements. We will not specifically require a power light, but there needs to be some means of identifying when the robot is powered on such as noise or light. http://sparc.tools/wordpress/wp-content/uploads/2019/SPARC_Robot_Construction_Specifications_v1.3.pdf The scale will be +/- 2 gram precision with calibration weights available.
Facilities:
It is suggested that you bring your own table and chairs. There won't be enough for everyone given the advised distancing requirements, and several teams are flying in. Also, only about half of the pit tables will likely be under the overhang/eaves. If you have a canopy, I suggest bringing it.
The venue is power-limited. There will be a soldering area inside the store and a battery charging table outside with AC. (No AC powered heatguns allowed but torches are to be provided for heatshrink, etc.) The battery charging table might be in an inconvenient location and is limited to 400W. If you would like to charge your batteries at your pit table or run other equipment, please bring a battery to power your stuff. If y'all let me know before December 1st, I can bring 3S 5Ah Li-Ion packs with XT60 connectors to run chargers. (Please size loads for 2.5A max per pack.) Additionally, the last matches of the day will likely happen after dark. There is lighting over about half of the pit area, but headlamps or battery powered worklights may be a very good idea if you expect to do well.
Lunch and Dinner:
The adjacent bar and restaurant, Mike's Ice House (behind the store), is enthusiastically opening early for lunch for the event. There is to be BBQ chicken, brisket, pork sausage and sides for between $10 and $15 for a reportedly generous plate. Post event dinner will also likely be over there.
 Masks:
Mask wearing is required in the store and next to the arena during matches and while crowded around the arena. Don't be rude.
Prizes:
Prizes at minimum are to be 1 x entry fee for 3rd place, 2 x entry fee for 2nd place, 3 x entry fee for 1st place. There will also be four $25 gift certificates to EPO and trophies to hang on your tree or wall.  
Brackets:
The brackets themselves are subject to change until the tournament starts. This includes reshuffling of participants in a non-random fashion.
Elves - 150 gram: https://challonge.com/SantaSlam2020150
Reindeer - 1 lb: https://challonge.com/SantaSlam2020_1
Abominable Snowmen - 3 lb: https://challonge.com/SantaSlam2020_3
Other Events by High Adrenaline Combat Robotics
Event
Date
Location
Robots
HACR - Texas Robotics Invitational

REGISTRATION OPEN

Jul 7, 2023
Houston, TX, US
Sugar Land Innovation Spark Festival - Sugar Cane Showdown
Apr 1, 2023
Sugar Land, TX, US
Sugarland Innovation Spark Fest
Apr 1, 2023
Sugar Land, TX, US
HAMFest - Texas Take Down
Mar 4, 2023
Rosenberg, TX, US
Texas Turkey Tussle 2022 - Rain Date
Dec 10, 2022
Houston, TX, US
TechFest Showdown
Nov 5, 2022
Houston, Texas, US
September Scuffle 2022
Sep 17, 2022
Houston, TX, US
Mother's Day Melee 2022
May 7, 2022
Houston, TX, US
St. Patty's Day Slam 2022
Mar 19, 2022
Houston, TX, US
Holiday Bash 2021
Nov 20, 2021
Houston, TX, US
Houston Halloween 2021
Oct 31, 2021
Houston, TX, US
Houston Heatwave 2021
Aug 14, 2021
Houston, TX, US
Houston Mayhem 2021
May 22, 2021
Houston, TX, US
Spinners Spring 2021
Feb 27, 2021
Houston, TX, US
Santa Slam 2020 (This Event)
Dec 5, 2020
Houston, TX, US