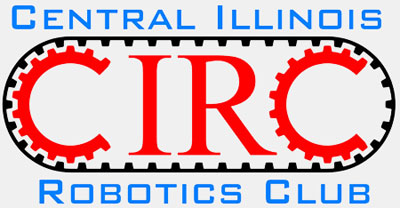 Harper Experience Day Bot Brawl 2019
Palatine, IL, US
October 5, 2019
Event Information
Organizer:

Central Illinois Robotics Club




Location:

Palatine, IL US


Get Directions

Starts:

Oct 5, 2019

Ends:

Oct 5, 2019
Robot Classes / Competitions
Category
Robot Class
Maximum
Capacity
Currently
Registered
Waiting
List
Entry
Fee
Pit Crew
Allowed
Combat
1 lb - Antweight
16
10 Robots
None
40.00 USD
1 Per Robot
Event Description
Harper Experience Day Bot Brawl 2019 will be held on Saturday, October 5, 2019 at Harper College in Palatine, IL. This event will be held as part of Harper Experience Day and Harper Maker Fest. This will be the first time that CIRC will host a Bot Brawl as a part of these events, and we are looking forward to it! There will be maker demonstrations and maker exhibits going on all day long in addition to the Bot Brawl. Harper Experience Day Bot Brawl 2019 will include only Antweight (1 lb) RC Combat. The event is limited to 16 bots. Rules are available on our website,
here
. Parking directions and which building the event will be held in are still being developed and will be updated once completed. A detailed schedule will be posted to the
CIRC website
once it is developed. Harper Experience Day will run from 10:00 AM to 2:30 PM. During the contest we ask all contestants to be diligent in their repairs and to pay attention for their bots' names to be called for bouts. It is a challenge to get started on time, so please get checked in early and set up at your pit tables. Thank you for coming to our event! We're looking forward to seeing what you have made. Entry fee is $40 per entry and MUST be paid in advance on BuildersDB by 10/2/19.
Other Events by Central Illinois Robotics Club
| Event | Date | Location | Robots |
| --- | --- | --- | --- |
| Central Illinois Bot Boogaloo Fall 2019 | Nov 9, 2019 | East Peoria, IL, US | 24 Robots |
| Harper Experience Day Bot Brawl 2019 (This Event) | Oct 5, 2019 | Palatine, IL, US | 10 Robots |
| Central Illinois Bot Brawl 2019 | Aug 10, 2019 | Peoria, IL, US | 40 Robots |
| Central Illinois Bot Boogaloo 2019 | Apr 6, 2019 | East Peoria, IL, US | 22 Robots |
| Central Illinois Bot Brawl 2018 | Aug 11, 2018 | Peoria, IL, US | 44 Robots |
| Central Illinois Bot Brawl 2017 | Aug 12, 2017 | Peoria, IL, US | 58 Robots |
| Central Illinois Bot Brawl 2016 | Aug 13, 2016 | Peoria, IL, US | 35 Robots |
| Central Illinois Bot Brawl 2015 | Apr 11, 2015 | Peoria, IL, US | 21 Robots |
| Central Illinois Bot Brawl 2014 | Apr 5, 2014 | Normal, IL, US | 38 Robots |
| Central Illinois Bot Brawl 2013 | Apr 13, 2013 | Normal, IL, US | 32 Robots |
| Central Illinois Bot Brawl 2012 | Mar 24, 2012 | Peoria, IL, US | 41 Robots |
| Central Illinois Bot Brawl 2011 | Apr 2, 2011 | Peoria, IL, US | 26 Robots |
| Central Illinois Bot Brawl 2010 | Mar 6, 2010 | Peoria, IL, US | 24 Robots |
| Central Illinois Bot Brawl 2009 | Mar 7, 2009 | Peoria, IL, US | 30 Robots |
| Central Illinois Bot Brawl 2008 | Mar 29, 2008 | Peoria, IL, US | 20 Robots |
| Central Illinois Bot Brawl 2007 | Mar 10, 2007 | Peoria, IL, US | 36 Robots |
| Central Illinois Bot Brawl 2006 | May 6, 2006 | Peoria, IL, US | 16 Robots |