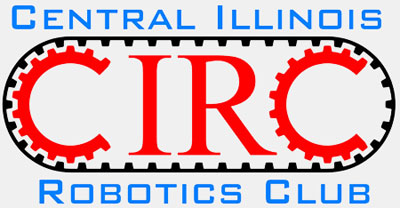 Central Illinois Bot Boogaloo 2019
East Peoria, IL, US
April 6, 2019
Event Information
Organizer:

Central Illinois Robotics Club




Location:

East Peoria, IL US


Get Directions

Starts:

Apr 6, 2019

Ends:

Apr 6, 2019
Robot Classes / Competitions
Category
Robot Class
Maximum
Capacity
Currently
Registered
Waiting
List
Entry
Fee
Pit Crew
Allowed
Art Bots
Art Bot
16
1 Robot
None
20.00 USD
1 Per Robot
Open
Line Following
16
7 Robots
None
20.00 USD
1 Per Robot
Open
Line Maze
16
3 Robots
None
20.00 USD
1 Per Robot
Open
Cone Stalking
16
1 Robot
None
20.00 USD
1 Per Robot
Sumo
500g Mini-sumo (Auto)
16
7 Robots
None
20.00 USD
1 Per Robot
Sumo
3kg (Auto)
16
3 Robots
None
20.00 USD
1 Per Robot
Event Description
Bot Boogaloo is CIRC's new competition focused on autonomous robots. (If RC combat is your thing, keep an eye out for our other competition, the Bot Brawl.) Bot Boogaloo will be held on Saturday, April 6, 2019 at Illinois Central College in East Peoria, Illinois, in room 212 of the Academic Building. Bot Boogaloo will feature the following events:
500 g Sumo
3 kg Sumo
Line Following
Line Maze
Cone Stalking
Art Bot
Rules for the events are available on our website,
circpeoria.org
. Mail-in entries will be accepted. Entry fee is $20 per entry if you pay on BuildersDB by 4/3/19. Entry fee is $30 per entry if you pay after 4/3/19. Payment via PayPal can be done through BuildersDB. Payment via cash or check payable to Central Illinois Robotics Club can be done at the competition.
Other Events by Central Illinois Robotics Club
| Event | Date | Location | Robots |
| --- | --- | --- | --- |
| Central Illinois Bot Boogaloo Fall 2019 | Nov 9, 2019 | East Peoria, IL, US | 24 Robots |
| Harper Experience Day Bot Brawl 2019 | Oct 5, 2019 | Palatine, IL, US | 10 Robots |
| Central Illinois Bot Brawl 2019 | Aug 10, 2019 | Peoria, IL, US | 40 Robots |
| Central Illinois Bot Boogaloo 2019 (This Event) | Apr 6, 2019 | East Peoria, IL, US | 22 Robots |
| Central Illinois Bot Brawl 2018 | Aug 11, 2018 | Peoria, IL, US | 44 Robots |
| Central Illinois Bot Brawl 2017 | Aug 12, 2017 | Peoria, IL, US | 58 Robots |
| Central Illinois Bot Brawl 2016 | Aug 13, 2016 | Peoria, IL, US | 35 Robots |
| Central Illinois Bot Brawl 2015 | Apr 11, 2015 | Peoria, IL, US | 21 Robots |
| Central Illinois Bot Brawl 2014 | Apr 5, 2014 | Normal, IL, US | 38 Robots |
| Central Illinois Bot Brawl 2013 | Apr 13, 2013 | Normal, IL, US | 32 Robots |
| Central Illinois Bot Brawl 2012 | Mar 24, 2012 | Peoria, IL, US | 41 Robots |
| Central Illinois Bot Brawl 2011 | Apr 2, 2011 | Peoria, IL, US | 26 Robots |
| Central Illinois Bot Brawl 2010 | Mar 6, 2010 | Peoria, IL, US | 24 Robots |
| Central Illinois Bot Brawl 2009 | Mar 7, 2009 | Peoria, IL, US | 30 Robots |
| Central Illinois Bot Brawl 2008 | Mar 29, 2008 | Peoria, IL, US | 20 Robots |
| Central Illinois Bot Brawl 2007 | Mar 10, 2007 | Peoria, IL, US | 36 Robots |
| Central Illinois Bot Brawl 2006 | May 6, 2006 | Peoria, IL, US | 16 Robots |