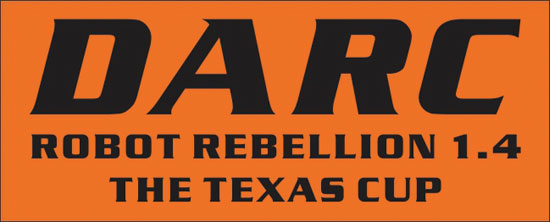 Robot Rebellion 1.4 - The Texas Cup
Richardson, TX, US
December 17, 2017
Event Information
Organizer:

Texas Robot Combat




Location:

Richardson, TX US


Get Directions

Starts:

Dec 17, 2017

Ends:

Dec 17, 2017
Robot Classes / Competitions
Category
Robot Class
Maximum
Capacity
Currently
Registered
Waiting
List
Entry
Fee
Pit Crew
Allowed
Combat
150 g - Fairyweight
Unlimited
13 Robots
None
15.00 USD
Unlimited
Combat
1 lb - Antweight
Unlimited
15 Robots
None
20.00 USD
Unlimited
Combat
3 lb - Beetleweight
Unlimited
12 Robots
None
25.00 USD
Unlimited
Combat
6 lb - Mantis
Unlimited
1 Robot
None
0.00 USD
Unlimited
Combat
Flea Weight 75g
Unlimited
2 Robots
None
10.00 USD
Unlimited
Event Description
Robot Rebellion 1.4 brings you compelling robot combat action! Fleaweights, Fairyweights, Antweights, and Beetleweights alike compete for the Texas Insect championship, the most prestigious title offered in the field of Texas combat robotics. Will the current champions maintain their Robot Rebellion gold, or will new blood claim the titles this time around?

The place:
Banana RC Raceway
521 W Campbell Rd #300, Richardson, TX 75080

There will be pit tables and power strips available for all teams. The arena is 8 feet by 8 feet - freshly built and ready to take fighting robots. We have a recent addition this time around in the form of the Texas Twister - the old pit/spinner hazard from the legendary Team Think Tank arena.

The price:
$10 for UK Fleaweights
$15 for Fairyweights/UK Antweights
$20 for Antweights
$25 for Beetleweights
Free for Mantisweights

$1 for snacks and drinks, $3 for an energy drink, $3 for a hot dog
$5 discount on all entry fees if you join DARC as a member.

The prize:
Custom trophies for 1st, 2nd, and 3rd place in all weight classes
Cash and electronic prizes from our sponsors
Acrylic pogs for every win

The time:
December 17, 2017 - this is a one day event.

Pre-check-in starts Saturday and will carry on from 10am-2pm. Check-in proper will be from 10am to 11:30am. Fights will start at noon and continue until 5pm, but may end sooner or later depending on how long the event lasts.

The tournament:
Tournament structure depends on the number of participants. 5 or less robots in a weight class will fight in a round robin tournament. 6 or more robots will fight in a double elimination tournament. Mantisweight robots will fight in a series of demos, as there will likely not be enough to have a proper tournament for the weight class.

For any additional information, please call (817)-675-8848, or email us at info@dallasarearobotcombat.com.
Other Events by Texas Robot Combat
Event
Date
Location
Robots
Cancelled - Robot Rebellion 4.1

REGISTRATION OPEN

Mar 14, 2020
Grand Prairie, TX, US
Robot Rebellion 4.1
Mar 14, 2020
Grand Prairie, TX, US
42 Robots
Robot Rebellion 3.3 - Texas Cup III

REGISTRATION OPEN

Dec 14, 2019
Greenville, TX, US
Robot Rebellion 3.3 - Texas Cup III
Dec 14, 2019
Dallas, TX, US
59 Robots
Robot Rebellion 3.2

REGISTRATION OPEN

Aug 4, 2019
Rockwall, TX, US
Robot Rebellion 3.2
Aug 4, 2019
Dallas, TX, US
44 Robots
Robot Rebellion 3.1

REGISTRATION OPEN

Jun 2, 2019
Dallas, TX, US
Robot Rebellion 3.1
Jun 2, 2019
Dallas, TX, US
48 Robots
RR 2.4 - Texas Cup II
Dec 16, 2018
Richardson, TX, US
23 Robots
Robot Rebellion 2.3

REGISTRATION OPEN

Sep 30, 2018
Richardson, TX, US
Robot Rebellion 2.3
Sep 30, 2018
Richardson, TX, US
42 Robots
Robot Rebellion 2.2

REGISTRATION OPEN

Jun 10, 2018
Richardson, TX, US
Robot Rebellion 2.2
Jun 10, 2018
Richardson, TX, US
33 Robots
Robot Rebellion 2.1

REGISTRATION OPEN

Mar 25, 2018
Richardson, TX, US
Robot Rebellion 2.1
Mar 25, 2018
Richardson, TX, US
21 Robots
Robot Rebellion 1.4 - The Texas Cup

REGISTRATION OPEN

Dec 17, 2017
Richardson, TX, US
Robot Rebellion 1.4 - The Texas Cup (This Event)
Dec 17, 2017
Richardson, TX, US
43 Robots
Battles at Houston Maker Faire
Oct 22, 2017
Houston, TX, US
7 Robots
Robot Rebellion 1.3

REGISTRATION OPEN

Sep 17, 2017
Richardson, TX, US
Robot Rebellion 1.3
Sep 17, 2017
Richardson, TX, US
22 Robots
Robot Rebellion 1.2

REGISTRATION OPEN

Jun 25, 2017
Richardson, TX, US
Robot Rebellion 1.2
Jun 25, 2017
Richardson, TX, US
19 Robots
Robot Rebellion 1.1
Mar 12, 2017
Richardson, TX, US
19 Robots