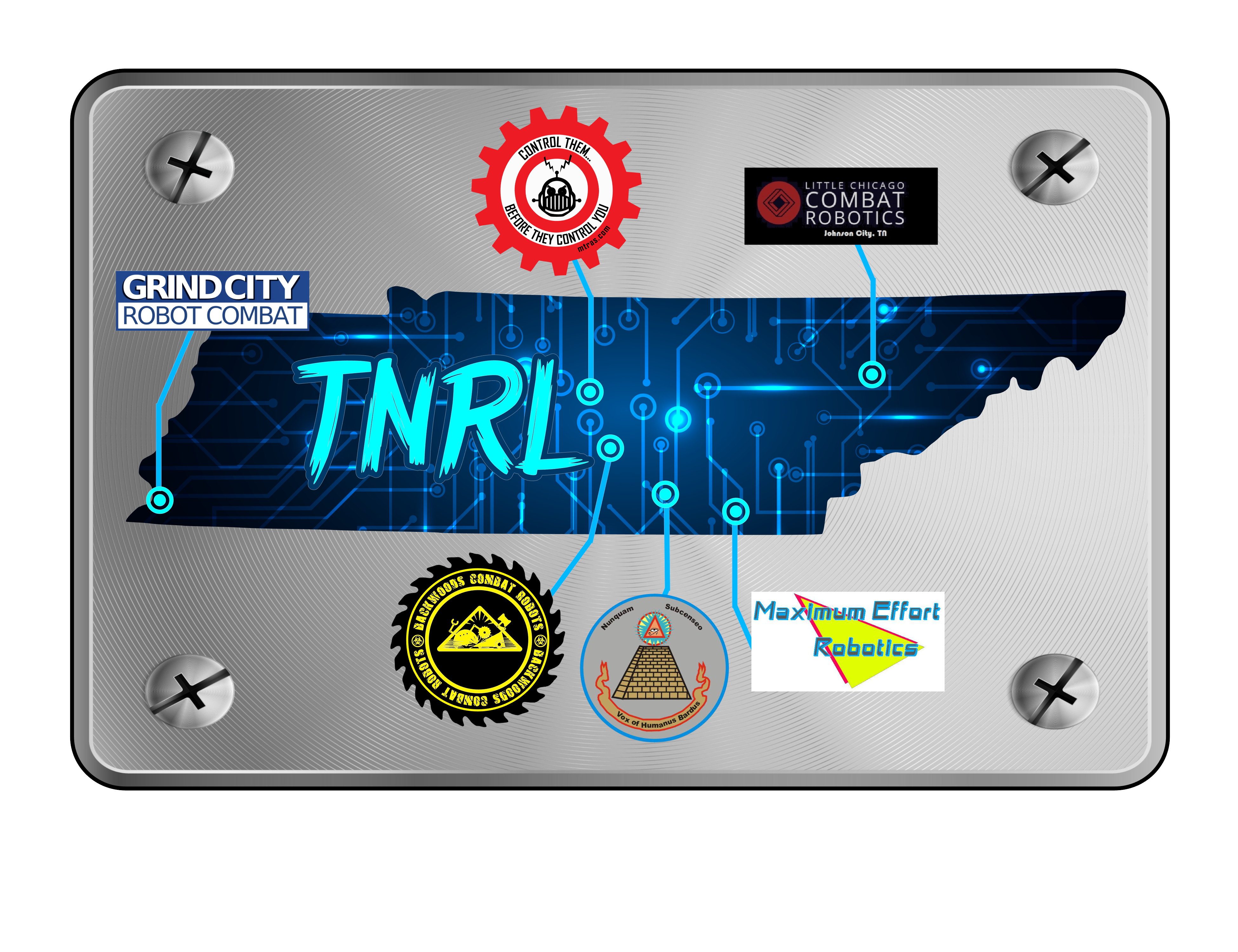 TNRL 2023 Championship
Chapel Hill, TN, US
October 14, 2023
Registration
| | |
| --- | --- |
| Starts: | Aug 23, 2023 12:08 UTC |
| Ends: | Oct 12, 2023 18:10 UTC |
| Waiting List: | Not Allowed |
| Entry Fees: | |
Robot Classes / Competitions
Category
Robot Class
Maximum
Capacity
Currently
Registered
Waiting
List
Entry
Fee
Pit Crew
Allowed
Combat
150 g - Fairyweight
16
7 Robots
None
0.00 USD
Unlimited
Combat
Plastic Ant
16
6 Robots
None
0.00 USD
Unlimited
Combat
3 lb - Beetleweight
16
7 Robots
None
0.00 USD
Unlimited
Event Description
We are excited for the TNRL 2023 Championship. Congratulations to all of our qualifying ant bots. If you have qualified, please contact Jenna Rogers to confirm if you will be attending and bringing your qualified bot.
Here is the list of the ants that have qualified at each of the TNRL qualifying events.
Franklin Rumble 4-1: Spike Lee Recyclops Apex Fluffy
Backwoods #6 on 4-29: Huka'lakanaka Violator Ice Cream FC Freakzoid
Memphis in Mayhem 5-20: Royal Pudding Sic'em Breaking & Entering Shadow Warrior
T-Town 7-22: Cyber Wolf Swoop HoriVertzical Man Bear Pig
Maximum Mayhem 8-19: Baby Nautiloid Fred Gar Garchomp
We are located in middle TN in a private commercial building. We have plenty of pit area and parking for all competitors. Participants may enter two bots per class, we will do our best to allow everyone time for repairs. There is no charge to compete and will be double elimination style for Friday and Saturday.
For fairies and printed ants, we will be using an 8x8 arena with a wooden floor and with multiple pits/traps. TPU is allowed for printed ants, as well as any other conventional printed material. No bullitt material or CNC parts allowed. No flame bots allowed. If you have questions, please contact Jason Rogers. For ants and beetles we have a 6x6x4 arena made from 1/2in polycarbonate and additional ½ in x12in poly toe board with seamless steel floor. We have a ventilator system built into the area to push any fumes outside in the event of a fire. Unlimited magnets are allowed.
Doors will open at 8am central, competition will start at 10 am central.
We will have a food truck on site, but coolers are welcomed. Please bring extra power strips if needed.
Cabins and hotel rooms are available Henry Hotron State Park about 10 minutes from the event. Cabins have two bedrooms and a pull out couch. Cabins are limited, so call and reserve yours early if you would like one.
https://tnstateparks.com/parks/cabins/henry-horton
Prize money will be given out to the winners thanks to our sponsors.
Palm Beach Bots
Send Cut Send
CNC Madness
Servo City
Repeat Robotics
Monster Bolts
Other Events by BackwoodsRC Hobbie​s
Event
Date
Location
Robots
TNRL 2023 Championship (This Event)

REGISTRATION OPEN

Oct 14, 2023
Chapel Hill, TN, US
20 Robots
Battle in the Backwoods 6
Apr 29, 2023
Chapel Hill, TN, US
54 Robots
Engineered for Destruction 10
Feb 25, 2023
Nashville , TN , US
35 Robots
Botaroo 2022
Nov 18, 2022
Chapel Hill, TN, US
65 Robots
Battle in the Backwoods 5
Aug 13, 2022
Chapel Hill, TN, US
Battle in the Backwoods 4
Apr 30, 2022
Chapel Hill, TN, US
Battle in the Backwoods 3
Jan 22, 2022
Chapel Hill, TN, US
Battle in the Backwoods 2
Oct 9, 2021
Chapel Hill, TN, US
Battle in the Backwoods 1
Jun 12, 2021
Chapel Hill, TN, US