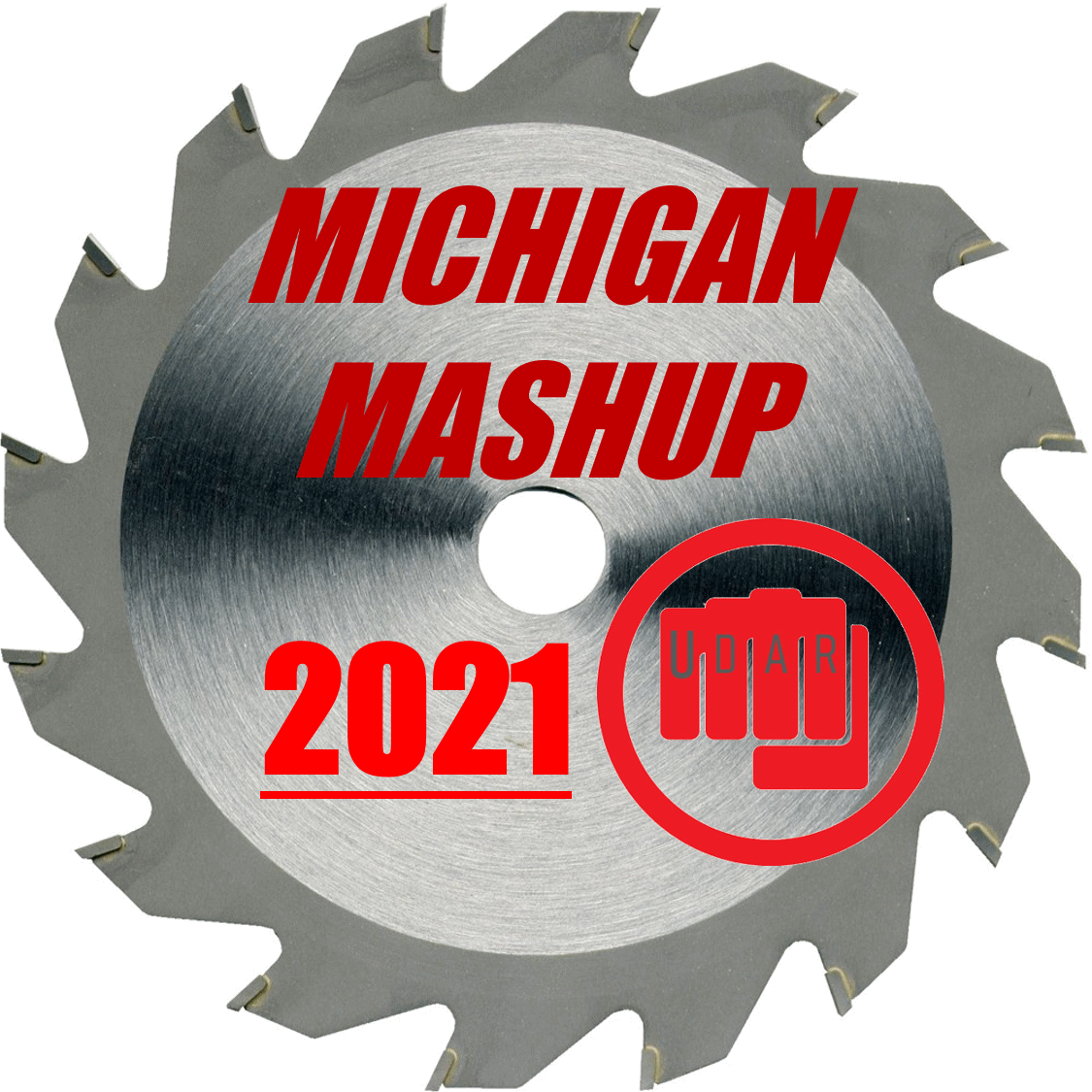 Michigan Mashup 2021
Bloomingdale, MI, US
June 26, 2021
Event Information
Organizer:

Midwest Robot Combat Association




Location:

101 W Kalamazoo St
Bloomingdale, MI 49026
US
Get Directions

Starts:

Jun 26, 2021

Ends:

Jun 26, 2021
Registration
| | |
| --- | --- |
| Starts: | May 5, 2021 00:05 UTC |
| Ends: | Jun 25, 2021 00:06 UTC |
Registration for this event is not hosted on the Builders Database.

This link will take you off the site.
Registration Link
Event Description
WELCOME TO MICHIGAN MASHUP 2021!
The first Team UDAR hosted Michigan combat robot event!
Event details:
In light of CIRC likly being canceled this year I have taken it upon myself to fill the gap in the Michigan/ illinois area, Event is hosted in the small town of Bloomingdale at a local telecommunications company there is a resonable amount of space with tables and chairs being provided. You will be required to bring your own extension cords and any equipment that is necessary for the repair and operation of your robots. The fairy weight class will be in the morning time frame with a small break around lunch time before resumeing with the Antweight class in the afternoon. The event will run as long as nessary but I am hoping to have it wrapped up by 4.
Masks are suggested but not required at this event given that Michigan is currently planning to lossen restrictions before July 4th. You will still be expected to do your best to social distance from anyone not part of your immediate group, tables will be spaced to accommodate such. While spectators are welcome I do however ask that you keep any non combatants to a minimum given the current building compacity restrictions. Everyone who attends the event will be expected to sign a basic waver before the competition begins.
I am tentatively hoping to start the fairy weight (150g) combat robot class by 10:30am but it may possibly be later if setup takes longer then expected. You must have any bots that plan to compete signed in by 10am so i can get the brackets built. Antweight class will begin 30 minutes after fairy weight class ends. A $20 fee will be collected per driver to cover venue cost and arena repairs, you are allowed to enter 1 bot in each class for each registered driver.
There will be a basic looking over of your robot at time of check in to make sure it has a locking device and you are expected to have confirmed that it will failsafe before arriving at the competition. Failure to follow safe handling or if a robot does not failsafe during the competition may result in disqualification without fee reinbursment.
Competition details:
Both the 150g (fairy weight) and 1 pound (Antweight) classes will be operated under the SPARC Match Rules v1.2.This ruleset can be found here for reveiw: http://sparc.tools/
All robots must fit inside of a 12" x 12" 12" cube
Arena is 4' x 4' x 2' and consists of steel floor and 1/4 thickness of polycabonate on all transparent portions of the arena. The arena also includes an auger hazard running from match start on one side of the combat area and a pushout zone which will become active in the last 60 seconds of the match on the other side. Auger will reverse if it becomes jammed up by a robot.
Tournament style will be double elimination with small trophies awarded to the top 3 bots in each class.
If time allows a bot brawl including any driver that wants to be included from both groups will be held at the end of the day.
https://challonge.com/aaos42uu
https://challonge.com/wm063u1v
Other Events by Midwest Robot Combat Association
Event
Date
Location
Robots
Midwest Robot Combat Association Finals
Oct 22, 2022
Oconomowoc, WI, US
WRC Open Ant Demo
Aug 6, 2022
Oconomowoc, WI, US
MRCA-Windy City Showdown
Jun 18, 2022
Berwyn, IL, US
Minnesota Massacre: A MRCA Official Qualifier
May 21, 2022
White Bear Lake, MN, US
MRCA Michigan Mashup 2022 Event #3
Apr 9, 2022
Bloomingdale, MI, US
Wisconsin Robot Combat January 2022
Jan 15, 2022
Oconomowoc, WI, US
Michigan Mashup 2021 Event #2
Nov 6, 2021
Bloomingdale, MI, US
Wisconsin Robotic Combat September 2021

REGISTRATION OPEN

Sep 26, 2021
Milwaukee, WI, US
Michigan Mashup 2021 (This Event)
Jun 26, 2021
Bloomingdale, MI, US
Wisconsin Robotic Combat May 2021
May 22, 2021
Oconomowoc, WI, US