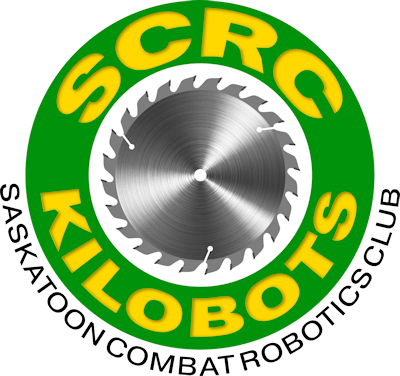 POSTPONED Kilobots XLV - RoboPalooza at Maker Faire 2020
Saskatoon, SK, CA
May 30, 2020
Registration
| | |
| --- | --- |
| Starts: | Mar 30, 2020 00:03 UTC |
| Ends: | May 15, 2020 00:05 UTC |
Registration for this event is not hosted on the Builders Database.

This link will take you off the site.
Registration Link
Robot Classes / Competitions
Category
Robot Class
Maximum
Capacity
Currently
Registered
Entry
Fee
Pit Crew
Allowed
Combat
150 g - Fairyweight
Unlimited
None
Unlimited
Combat
1 lb - Antweight
Unlimited
None
Unlimited
Combat
3 lb - Beetleweight
Unlimited
None
Unlimited
Event Description
* This event is contingent on Saskatoon Maker Faire, which has been postponed due to the Corona Virus.  Follow their Facebook page for updates on when the Faire will go ahead. *
Kilobots XLV - RoboPalooza at Saskatoon Maker Faire.  This event is an exhilarating 2-vs-2 gladiator-style tournament with twice the destruction potential for each and every match!
*Special scoring for 2-vs-2 matches: 1 point gained for your team winning the match.  1 extra point gained if your team wins AND you and your teammate are not knocked out.  A match ends in KO only if both robots on a team are disabled.  Besides that, matches are scored and judged as usual.  The robots place 1st, 2nd, 3rd based on total points by the end of the day.  There are trophies as usual, plus an 80pc screwdriver & tool set for the builder-voted "Most Entertaining Robot".
Other Events by Kilobots Combat Robot Events
| Event | Date | Location | Robots |
| --- | --- | --- | --- |
| Kilobots XLVII | Sep 24, 2022 | Saskatoon, SK, CA | 15 Robots |
| Kilobots XLVI at the Calgary Maker Faire | May 14, 2022 | Calgary, AB, CA | |
| POSTPONED Kilobots XLV - RoboPalooza at Maker Faire 2020 (This Event) | May 30, 2020 | Saskatoon, SK, CA | |
| Kilobots XLIV - Calgary Robot Smash-Up | Oct 26, 2019 | Calgary, AB, CA | |
| Kilobots - 2019 Canadian National Championships | Aug 10, 2019 | SK, , CA | |
| Kilobots XLII - RoboPalooza at Saskatoon Maker Faire | May 25, 2019 | Saskatoon, SK, CA | |
| Kilobots XLI @ UofS Spectrum | Jan 12, 2019 | Saskatoon, SK, CA | |
| Kilobots - 2018 Canadian National Championships @ Sask Expo | Sep 15, 2018 | Saskatoon, SK, CA | |
| Kilobots XXXIX - RoboPalooza at Saskatoon Maker Faire | May 26, 2018 | Saskatoon, SK, CA | |
| Kilobots XXXVIII @ Center Mall | Jan 20, 2018 | Saskatoon, SK, CA | |
| Kilobots XXXVI @ Warman Legends Centre | Jun 16, 2017 | Warman, SK, CA | |
| Kilobots XVI @ SPECTRUM 2010 | Jan 17, 2010 | Saskatoon, SK, CA | 25 Robots |
| Kilobots XIII | May 17, 2009 | Saskatoon, SK, CA | 19 Robots |
| Kilobots XII | Mar 30, 2008 | Saskatoon, SK, CA | 20 Robots |
| Kilobots XI | Nov 11, 2007 | Saskatoon, SK, CA | 21 Robots |
| Kilobots X, Spectrum 2007 | Jan 21, 2007 | Saskatoon, SK, CA | 42 Robots |
| Kilobots IX | Feb 26, 2006 | Saskatoon, SK, CA | 27 Robots |
| Kilobots VII | Mar 6, 2005 | Saskatoon, SK, CA | 24 Robots |
| Kilobots VI | Oct 23, 2004 | Humboldt, SK, CA | 17 Robots |
| Kilobots V | Jun 27, 2004 | Saskatoon, SK, CA | 17 Robots |
| Kilobots IV | Mar 26, 2004 | Saskatoon, SK, CA | 10 Robots |
| Kilobots III | Jan 18, 2004 | Saskatoon, SK, CA | 14 Robots |
| Kilobots II | Aug 24, 2003 | Saskatoon, SK, CA | 12 Robots |