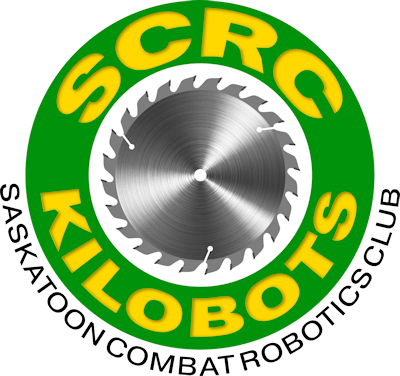 Kilobots XLI @ UofS Spectrum
Saskatoon, SK, CA
January 12 - January 13, 2019
Event Information
Organizer:

Kilobots Combat Robot Events




Location:

Engineering Building
Saskatoon, SK S7N
CA
Get Directions

Starts:

Jan 12, 2019

Ends:

Jan 13, 2019

Website:

https://kilobots.com
Robot Classes / Competitions
Category
Robot Class
Maximum
Capacity
Currently
Registered
Waiting
List
Entry
Fee
Pit Crew
Allowed
Combat
150 g - Fairyweight
Unlimited
None
None
Unlimited
Combat
1 lb - Antweight
Unlimited
None
None
Unlimited
Combat
3 lb - Beetleweight
Unlimited
None
None
Unlimited
Event Description
Kilobots returns to its roots for Spectrum 2019 at the University of Saskatchewan! Before growing into Canada's largest international combat robot competition, the SCRC started as a small university club. We have been a headliner at the triennial Spectrum for the past 15 years and it is still one of our most exciting events! The event consists of 2 weekdays (Jan 10-11) of exciting demos and presentations followed by a full combat tournament on the weekend (Jan 12-13).
Follow our Facebook event for social media updates: https://www.facebook.com/events/2159483264368704/
Visit https://spectrum.usask.ca/ for everything else to see and do at Spectrum.
Registration is on the RCE: https://www.robotcombatevents.com/events/282
If you can't attend, make sure to follow Twitch.tv/fingertechrobotics to catch the event stream!  Join in the chat with competitors and other builders while watching!
What is Spectrum? Spectrum is a triennial exposition on science and technology that is run by students of the College of Engineering at the University of Saskatchewan. Spectrum features displays, interactive exhibits, workshops, competitions, and speakers that explain and showcase scientific, engineering and technological innovations. Spectrum is a show for the entire family; Our exhibits and displays at the exhibition are enjoyed by all audiences, giving the public an opportunity to learn about engineering and scientific developments in a more casual environment. There will be many interactive exhibits that will enable visitors of all ages and knowledge bases to have fun and learn science and engineering in a whole new way.   See you there!
Other Events by Kilobots Combat Robot Events
Event
Date
Location
Robots
Kilobots 50 @ Calgary Maker Faire

REGISTRATION OPEN

May 13, 2023
Calgary, AB, CA
14 Robots
Kilobots XLIX @ Saskatoon Entertainment Expo

REGISTRATION OPEN

May 6, 2023
Saskatoon, SK, CA
Kilobots Rookie Ruckus - March 2023
Mar 25, 2023
Saskatoon, SK, CA
8 Robots
Kilobots XLVIII @ FingerTech HQ
Jan 21, 2023
Saskatoon, SK, CA
26 Robots
Kilobots XLVII @ FingerTech HQ
Sep 24, 2022
Saskatoon, SK, CA
18 Robots
Kilobots XLVI at the Calgary Maker Faire
May 14, 2022
Calgary, AB, CA
POSTPONED Kilobots XLV - RoboPalooza at Maker Faire 2020
May 30, 2020
Saskatoon, SK, CA
Kilobots XLIV - Calgary Robot Smash-Up
Oct 26, 2019
Calgary, AB, CA
Kilobots - 2019 Canadian National Championships
Aug 10, 2019
SK, , CA
Kilobots XLII - RoboPalooza at Saskatoon Maker Faire
May 25, 2019
Saskatoon, SK, CA
Kilobots XLI @ UofS Spectrum (This Event)
Jan 12, 2019
Saskatoon, SK, CA
Kilobots - 2018 Canadian National Championships @ Sask Expo
Sep 15, 2018
Saskatoon, SK, CA
Kilobots XXXIX - RoboPalooza at Saskatoon Maker Faire
May 26, 2018
Saskatoon, SK, CA
Kilobots XXXVIII @ Center Mall
Jan 20, 2018
Saskatoon, SK, CA
Kilobots XXXVI @ Warman Legends Centre
Jun 16, 2017
Warman, SK, CA
Kilobots XVI @ SPECTRUM 2010
Jan 17, 2010
Saskatoon, SK, CA
25 Robots
Kilobots XIII
May 17, 2009
Saskatoon, SK, CA
19 Robots
Kilobots XII
Mar 30, 2008
Saskatoon, SK, CA
20 Robots
Kilobots XI
Nov 11, 2007
Saskatoon, SK, CA
21 Robots
Kilobots X, Spectrum 2007
Jan 21, 2007
Saskatoon, SK, CA
42 Robots
Kilobots IX
Feb 26, 2006
Saskatoon, SK, CA
27 Robots
Kilobots VII
Mar 6, 2005
Saskatoon, SK, CA
24 Robots
Kilobots VI
Oct 23, 2004
Humboldt, SK, CA
17 Robots
Kilobots V
Jun 27, 2004
Saskatoon, SK, CA
17 Robots
Kilobots IV
Mar 26, 2004
Saskatoon, SK, CA
10 Robots
Kilobots III
Jan 18, 2004
Saskatoon, SK, CA
14 Robots
Kilobots II
Aug 24, 2003
Saskatoon, SK, CA
12 Robots