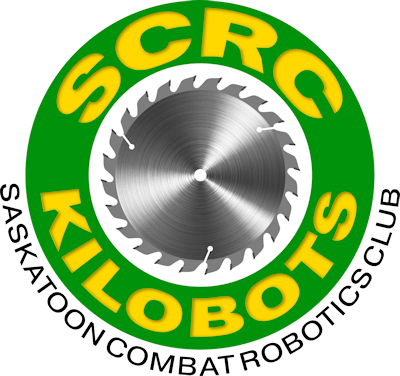 Kilobots XLIV - Calgary Robot Smash-Up
Calgary, AB, CA
October 26 - October 27, 2019
Robot Classes / Competitions
Category
Robot Class
Maximum
Capacity
Currently
Registered
Waiting
List
Entry
Fee
Pit Crew
Allowed
Combat
150 g - Fairyweight
Unlimited
None
None
Unlimited
Combat
1 lb - Antweight
Unlimited
None
None
Unlimited
Combat
3 lb - Beetleweight
Unlimited
None
None
Unlimited
Event Description
This will be the 44th Kilobots Tournament hosted by the SCRC (Saskatoon Combat Robotics Club). For the first time, the SCRC will be hitting the road and bringing the fun to Calgary's "Protospace" maker space for a tournament on October 26 and 27, 2019.
Plan on fixing up your Fairy, Ant, and Beetle weight bots after Nationals and the Saskatoon Entertainment Expo events for a weekend of epic rematches and new builders. Please follow Kilobots arena down and join us. We're hoping to use this as an opportunity to grow the sport in Calgary and entice new people to become bot builders, with an eye towards recruiting a local club that can host tournaments here on a regular basis. If that goes well, we will all have more competitors and competitions in western Canada.
Venue: *UPDATED* Protospace
Since plans to have the event at TELUS Spark have fallen through, Protospace has stepped up BIG TIME to host on only a few days notice. :D
Info
Registration closes October 12th, two weeks prior to the event.  Make sure to check out the SCRC "house rules" here: https://kilobots.com/events/rules/
Like our Facebook Page for official notifications: https://www.facebook.com/SCRCKilobots/
Builders can join our Facebook Group: https://www.facebook.com/groups/Kilobots/
Mark yourself as Attending on our Facebook event: https://www.facebook.com/events/578402295995103/
Parking in Protospace's lot is free, but limited (watch for reserved parking signs and obey them) and street-side parking is available for overflow.
Are there Prizes?
Maybe, but the change in venue to protospace has thrown a lot of that into flux. :(
Other Events by Kilobots Combat Robot Events
Event
Date
Location
Robots
Kilobots 53

REGISTRATION OPEN

Jan 20, 2024
Saskatoon, SK, CA
10 Robots
Kilobots 51 - Canadian National Championships
Aug 12, 2023
Calgary, AB, CA
50 Robots
Kilobots 52: The Paradox
Jul 15, 2023
Saskatoon, SK, CA
28 Robots
Kilobots 50 @ Calgary Maker Faire
May 13, 2023
Calgary, AB, CA
26 Robots
Kilobots XLIX @ Saskatoon Entertainment Expo
May 6, 2023
Saskatoon, SK, CA
14 Robots
Kilobots Rookie Ruckus - March 2023
Mar 25, 2023
Saskatoon, SK, CA
8 Robots
Kilobots XLVIII @ FingerTech HQ
Jan 21, 2023
Saskatoon, SK, CA
26 Robots
Kilobots XLVII @ FingerTech HQ
Sep 24, 2022
Saskatoon, SK, CA
18 Robots
Kilobots XLVI at the Calgary Maker Faire
May 14, 2022
Calgary, AB, CA
POSTPONED Kilobots XLV - RoboPalooza at Maker Faire 2020
May 30, 2020
Saskatoon, SK, CA
Kilobots XLIV - Calgary Robot Smash-Up (This Event)
Oct 26, 2019
Calgary, AB, CA
Kilobots - 2019 Canadian National Championships
Aug 10, 2019
SK, , CA
Kilobots XLII - RoboPalooza at Saskatoon Maker Faire
May 25, 2019
Saskatoon, SK, CA
Kilobots XLI @ UofS Spectrum
Jan 12, 2019
Saskatoon, SK, CA
Kilobots - 2018 Canadian National Championships @ Sask Expo
Sep 15, 2018
Saskatoon, SK, CA
Kilobots XXXIX - RoboPalooza at Saskatoon Maker Faire
May 26, 2018
Saskatoon, SK, CA
Kilobots XXXVIII @ Center Mall
Jan 20, 2018
Saskatoon, SK, CA
Kilobots XXXVI @ Warman Legends Centre
Jun 16, 2017
Warman, SK, CA
Kilobots XVI @ SPECTRUM 2010
Jan 17, 2010
Saskatoon, SK, CA
25 Robots
Kilobots XIII
May 17, 2009
Saskatoon, SK, CA
19 Robots
Kilobots XII
Mar 30, 2008
Saskatoon, SK, CA
20 Robots
Kilobots XI
Nov 11, 2007
Saskatoon, SK, CA
21 Robots
Kilobots X, Spectrum 2007
Jan 21, 2007
Saskatoon, SK, CA
42 Robots
Kilobots IX
Feb 26, 2006
Saskatoon, SK, CA
27 Robots
Kilobots VII
Mar 6, 2005
Saskatoon, SK, CA
24 Robots
Kilobots VI
Oct 23, 2004
Humboldt, SK, CA
17 Robots
Kilobots V
Jun 27, 2004
Saskatoon, SK, CA
17 Robots
Kilobots IV
Mar 26, 2004
Saskatoon, SK, CA
10 Robots
Kilobots III
Jan 18, 2004
Saskatoon, SK, CA
14 Robots
Kilobots II
Aug 24, 2003
Saskatoon, SK, CA
12 Robots