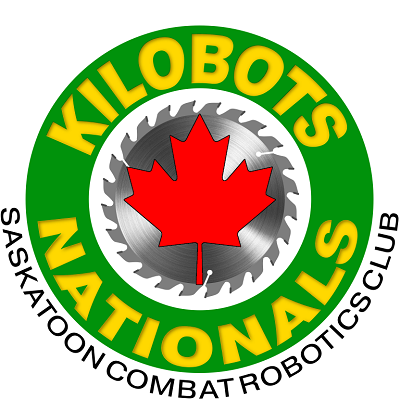 Kilobots - 2019 Canadian National Championships
SK, , CA
August 10 - August 11, 2019
Robot Classes / Competitions
Category
Robot Class
Maximum
Capacity
Currently
Registered
Waiting
List
Entry
Fee
Pit Crew
Allowed
Combat
150 g - Fairyweight
Unlimited
None
None
Unlimited
Combat
1 lb - Antweight
Unlimited
None
None
Unlimited
Combat
3 lb - Beetleweight
Unlimited
None
None
Unlimited
Event Description
This will be the 43rd Kilobots Tournament hosted by the SCRC (Saskatoon Combat Robotics Club) and takes place at the The Saskatoon Ex August 10-11, 2019.
Test your mettle (and metal!) against the best 150g, 1lb and 3lb robots in Canada and see if you can get your name engraved on the Kilobots Cups!
Over 200,000 people will be in attendance this year, plus the full event will be televised AND we will be editing the event and releasing weekly episodes on Twitch.tv!
Venue: The Saskatoon Ex
The sounds of rides whizzing by on tracks, hot tarmac, beloved entertainers at the grand stand, the taste of carnival food, and fireworks EVERY night of the week – it's all part of the recipe for a perfect week at the Saskatoon Ex! 200,000+ guests take in the sights and sounds of both the outdoor carnival and the indoor trade halls and exhibits.
The Ex is a week-long carnival and Kilobots will be doing live demos with attendees Aug 6-9.  The Canadian Nationals tournament is Aug 10-11 only.
Info
Registration closes July 20th, three weeks prior to the event.  Make sure to check out the SCRC "house rules" here: https://kilobots.com/events/rules/
Like our Facebook Page for official notifications: https://www.facebook.com/SCRCKilobots/
Builders can join our Facebook Group: https://www.facebook.com/groups/Kilobots/
Mark yourself as Attending on our Facebook event: https://www.facebook.com/events/805684083148400/
Registration includes 1 weekend pass to the Saskatoon Ex.  ALL team members will need passes to get in.  If you have more than 1 member, contact us.
We can supply discounted Parking Passes for $4.50/day.  Contact us before registration closes if you will need them.
Are there Prizes?
Yes!! Kilobots awards the top placing teams BUT ALSO there are many other awards, such as: Best Design, Most Entertaining, Most Destroyed, and the (what's the opposite of "coveted") Angle Grinder of Doom award for the robot that falls apart the most and keeps coming back for more! 
Along with trophies, last year's prize purse totaled over $2000!  Thanks to Big Blue Saw, BotBitz, Robot MarketPlace, Pololu Robotics and Electronics, SERVO Magazine, ServoCity, and FingerTech Robotics.
Post-Event Adventure
For a few years now we've had a little tradition of taking a post-Nationals adventure with our international guests. This year we are going back to scenic Banff AB, then to beautiful Lake Louis, then onward to Golden BC for some white-water rafting. Everyone is welcome!
Here is a video from our rafting company of rafting the Kicking Horse river: https://youtu.be/fk59GeIpViY
We plan to raft all three sections of the river: The Upper Canyon to ease people into rafting, the Middle Canyon which is the long fun stretch (mostly class 2 and 3 whitewater with a 1km stretch of class 4), and the Lower Canyon (if available) with a 4km stretch of continuous class 4 whitewater!  Should be around $159CAD per person.  (We are not planning to take the helicopter tour.)
Other Events by Kilobots Combat Robot Events
Event
Date
Location
Robots
Kilobots 50 @ Calgary Maker Faire

REGISTRATION OPEN

May 13, 2023
Calgary, AB, CA
14 Robots
Kilobots XLIX @ Saskatoon Entertainment Expo

REGISTRATION OPEN

May 6, 2023
Saskatoon, SK, CA
Kilobots Rookie Ruckus - March 2023
Mar 25, 2023
Saskatoon, SK, CA
8 Robots
Kilobots XLVIII @ FingerTech HQ
Jan 21, 2023
Saskatoon, SK, CA
26 Robots
Kilobots XLVII @ FingerTech HQ
Sep 24, 2022
Saskatoon, SK, CA
18 Robots
Kilobots XLVI at the Calgary Maker Faire
May 14, 2022
Calgary, AB, CA
POSTPONED Kilobots XLV - RoboPalooza at Maker Faire 2020
May 30, 2020
Saskatoon, SK, CA
Kilobots XLIV - Calgary Robot Smash-Up
Oct 26, 2019
Calgary, AB, CA
Kilobots - 2019 Canadian National Championships (This Event)
Aug 10, 2019
SK, , CA
Kilobots XLII - RoboPalooza at Saskatoon Maker Faire
May 25, 2019
Saskatoon, SK, CA
Kilobots XLI @ UofS Spectrum
Jan 12, 2019
Saskatoon, SK, CA
Kilobots - 2018 Canadian National Championships @ Sask Expo
Sep 15, 2018
Saskatoon, SK, CA
Kilobots XXXIX - RoboPalooza at Saskatoon Maker Faire
May 26, 2018
Saskatoon, SK, CA
Kilobots XXXVIII @ Center Mall
Jan 20, 2018
Saskatoon, SK, CA
Kilobots XXXVI @ Warman Legends Centre
Jun 16, 2017
Warman, SK, CA
Kilobots XVI @ SPECTRUM 2010
Jan 17, 2010
Saskatoon, SK, CA
25 Robots
Kilobots XIII
May 17, 2009
Saskatoon, SK, CA
19 Robots
Kilobots XII
Mar 30, 2008
Saskatoon, SK, CA
20 Robots
Kilobots XI
Nov 11, 2007
Saskatoon, SK, CA
21 Robots
Kilobots X, Spectrum 2007
Jan 21, 2007
Saskatoon, SK, CA
42 Robots
Kilobots IX
Feb 26, 2006
Saskatoon, SK, CA
27 Robots
Kilobots VII
Mar 6, 2005
Saskatoon, SK, CA
24 Robots
Kilobots VI
Oct 23, 2004
Humboldt, SK, CA
17 Robots
Kilobots V
Jun 27, 2004
Saskatoon, SK, CA
17 Robots
Kilobots IV
Mar 26, 2004
Saskatoon, SK, CA
10 Robots
Kilobots III
Jan 18, 2004
Saskatoon, SK, CA
14 Robots
Kilobots II
Aug 24, 2003
Saskatoon, SK, CA
12 Robots