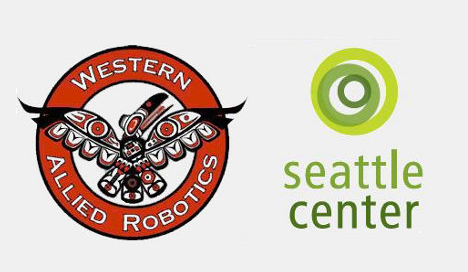 Robothon 2018
Seattle, WA, US
October 6, 2018
Robot Classes / Competitions
Category
Robot Class
Maximum
Capacity
Currently
Registered
Waiting
List
Entry
Fee
Pit Crew
Allowed
Combat
1 lb - Antweight
Unlimited
None
None
Unlimited
Combat
3 lb - Beetleweight
Unlimited
None
None
Unlimited
Combat
12 lb - Hobbyweight
Unlimited
None
None
Unlimited
Event Description
For more events and listings go to the RobotCombatEvents.com home page.
Robothon 2018 was a tremendous success! 
Here are the winners!
Full Brackets
Video of the live-stream. 
The quality isn't so good.  Links to specific fights will be posted in the future.
Event Listing 
Robothon is a great Seattle tradition with all kinds of robots to keep you entertained!
Western Allied Robotics will be bringing it's 12'x16' arena to contain the 1, 3 and 12 pound fighting robots. 
If fighting robots aren't your cup of tea, there will also be Line Following, Walking Races, Pop Can Challenge, Robo-Magellan and Mini Sumo. 
Saturday Oct 6th - Ants, Beetles and Hobby robots
8:30am - 10:00am - Safety
10:30am - 5:00pm - Robot Fighting!
5:00pm - 6:30pm - Arena tear-down and loadout
Event Format
Western Allied Robotics events use a modified double-elimination format. The final is decided  with a single final match. If there are 5 or fewer bots in a weight class they will use a round-robin format. Please read the Rules to make sure your bot qualifies to compete.
Pit Tables
Pit table space may be limited so plan accordingly. Also, the pit area will not be secure from Saturday night to Sunday morning. Robots and tools will need to be taken home or moved to a storage room at the venue. If you have any questions let us know via email or the Western Allied Robotics Facebook Group. If registration hits capacity we may have a 4-bot per team limit to make sure everyone gets a chance to compete.
Wait Lists
We typically have some churn before the event so put your bot on the wait-list.  Wait-lists will be first-come-first-serve.  Based on past events there is a good chance that the first few bots on the wait-lists for each class will get to compete.
Other Events by Western Allied Robotics
Event
Date
Location
Robots
WAR Hobby Expo 2023

REGISTRATION OPEN

Apr 15, 2023
Monroe, WA, US
WAR at Seattle Makers 9-10

REGISTER ON JUL 30

Sep 10, 2022
Seattle, WA, US
Seattle Bot Battles 2022
Jul 2, 2022
Seattle, WA, US
WAR at Seattle Makers 5-21
May 21, 2022
Seattle, WA, US
WAR Hobby Expo 2022
Apr 9, 2022
Monroe, WA, US
WAR at Seattle Makers
Feb 26, 2022
Seattle, WA, US
WAR Hobby Expo 2021
Oct 30, 2021
Monroe, WA, US
WAR Hobby Expo 2021 (Cancelled)
May 22, 2021
Monroe, WA, US
Cancelled - Robothon 2020
Oct 3, 2020
Seattle, WA, US
CANCELLED - Seattle Bot Battles 2020
May 9, 2020
Seattle, WA, US
WAR Hobby Expo 2020
Jan 25, 2020
Monroe, WA, US
Robothon 2019

REGISTRATION OPEN

Oct 5, 2019
Seattle, WA, US
Seattle Bot Battles 2019

REGISTRATION OPEN

Jul 6, 2019
Seattle, WA, US
WAR at NW Kids Fest - Monroe

REGISTRATION OPEN

Jun 22, 2019
Monroe, WA, US
WAR at NW Kids Fair - Puyallup

REGISTRATION OPEN

May 18, 2019
Puyallup, WA, US
WAR Hobby Expo 2019

REGISTRATION OPEN

Jan 26, 2019
Monroe, WA, US
WAR at PC Makerfest

REGISTRATION OPEN

Nov 3, 2018
Puyallup, WA, US
Robothon 2018 (This Event)

REGISTRATION OPEN

Oct 6, 2018
Seattle, WA, US
Seattle Bot Battles 2018

REGISTRATION OPEN

Jun 30, 2018
Seattle, WA, US
WAR Hobby Expo 2018

REGISTRATION OPEN

Jan 27, 2018
Monroe, WA, US
Robothon 2017

REGISTRATION OPEN

Sep 30, 2017
Seattle, WA, US
Seattle Bot Battles 2017

REGISTRATION OPEN

Jun 17, 2017
Seattle, WA, US
WAR - Hobby Expo 2017
Jan 28, 2017
Monroe, WA, US
30 Robots
The Great Seattle Bot Brawl at Robothon 2016
Oct 1, 2016
Seattle, WA, US
48 Robots
Seattle Bot Bash
Jun 19, 2016
Seattle, WA, US
49 Robots
WAR - Hobby Expo 2016
Jan 30, 2016
Monroe, WA, US
32 Robots
Barnes and Nobel Maker faire Munch!
Nov 8, 2015
Bellevue, WA, US
17 Robots
Robothon 2015
Oct 10, 2015
Seattle, WA, US
33 Robots
Kenworthy Krunch
Aug 8, 2015
Duvall, WA, US
17 Robots
Seattle Bot Battles 2015
May 31, 2015
Seattle, WA, US
14 Robots
NW Hobby Expo 2015
Feb 3, 2015
Monroe, WA, US
13 Robots
Robothon 2014
Sep 20, 2014
Seattle, WA, US
9 Robots
Kirkland Bot Battles 2014
Aug 10, 2014
Kirkland, WA, US
18 Robots
Seattle Bot Battles 2014
Apr 13, 2014
Seattle, WA, US
16 Robots
NW Hobby Expo 2014
Feb 8, 2014
Monroe, WA, US
9 Robots
Seattle Bot Brawl 2013
Nov 3, 2013
Seattle, WA, US
17 Robots
Kirkland Bot Battles 2013
Aug 11, 2013
Kirkland, WA, US
24 Robots
Seattle Bot Battles 10
Jun 24, 2012
Seattle, WA, US
14 Robots
NWMHobby Expo 2012
Feb 11, 2012
Monroe, WA, US
17 Robots
Seattle Bot Brawl 2011
Sep 11, 2011
Seattle, WA, US
10 Robots
SeattleBotBattles 9
Apr 10, 2011
Seattle, WA, US
14 Robots
NWMHE 2011
Feb 12, 2011
Monroe, WA, US
11 Robots
Robothon Robot Combat 2010
Oct 24, 2010
Seattle, WA, US
17 Robots
Seattle Bot Battle 8
Apr 11, 2010
Seattle, WA, US
13 Robots
NW Model Hobby Expo 2010
Feb 13, 2010
Monroe, WA, US
8 Robots
Robothon Robot Combat 2009
Oct 11, 2009
Seattle, WA, US
21 Robots
Seattle Bot Battle 7
Apr 12, 2009
Seattle, WA, US
22 Robots
NW Model Hobby Expo 2009
Feb 7, 2009
Monroe, WA, US
11 Robots
Untitled Event 305
Feb 7, 2009
Monroe, WA, US
Robothon Robot Combat 2008
Sep 21, 2008
Seattle, WA, US
20 Robots
Seattle Bot Battles 2008
Apr 12, 2008
Seattle, WA, US
12 Robots
WAR NW Model Hobby Expo 2008
Feb 9, 2008
Seattle, WA, US
23 Robots
Robothon Robot Combat 2007
Sep 22, 2007
Seattle, WA, US
22 Robots
Seattle Bot Battle 5
Mar 10, 2007
Seattle, WA, US
18 Robots
Robothon Robot Combat 2006
Sep 30, 2006
Seattle, WA, US
12 Robots
Seattle Bot Battles 4
Apr 9, 2006
Seattle, WA, US
9 Robots
Robothon Combat Robotics
Oct 8, 2005
Seattle, WA, US
13 Robots
daVinci Days 2005
Jul 16, 2005
Corvallis, OR, US
7 Robots
Seattle Bot Battles 3
Apr 3, 2005
Seattle, WA, US
12 Robots
Robothon Robotic Combat Events
Sep 25, 2004
Seattle, WA, US
13 Robots
daVinci Days
Jul 18, 2004
Corvallis, Oregon, US
12 Robots
Seattle Bot Battles 2
Apr 18, 2004
Bellevue, WA, US
13 Robots
Magic Smoke Antweight Tournament
Sep 28, 2003
Silverdale, WA, US
9 Robots
Dragonflight Antweight Tournament
Aug 17, 2003
Seattle, WA, US
15 Robots
da Vinci Days Robot Competition
Jul 20, 2003
Corvallis, OR, US
22 Robots
Seattle Bot Battle
Apr 13, 2003
Seattle, WA, US
20 Robots