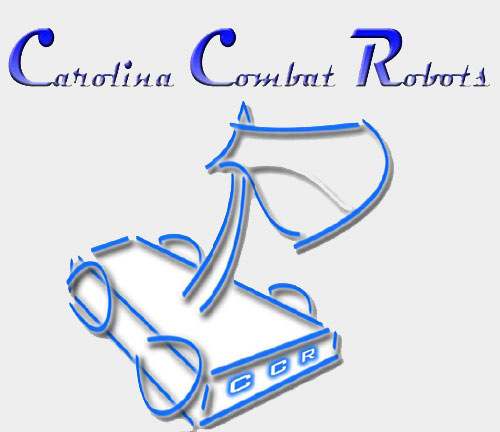 Wreck the Halls 2018
Charlotte, NC, US
December 15, 2018
Event Information
Organizer:

Carolina Combat Robots




Location:

Charlotte, NC US


Get Directions

Starts:

Dec 15, 2018

Ends:

Dec 15, 2018
Robot Classes / Competitions
Category
Robot Class
Maximum
Capacity
Currently
Registered
Waiting
List
Entry
Fee
Pit Crew
Allowed
Combat
Plastic Ant
32
10 Robots
None
10.00 USD
3 Per Robot
Event Description
Carolina Combat Robots presents Wreck The Halls at Makerspace Charlotte. This will be a Plastic Ant Combat Competition. It will be a low key event with the emphasis on FUN. Due to limited space viewing will not be open to the public.
1lb Plastic Ants:
PET, PETG, ABS, or PLA, PLA+, HIPS are the only materials that can be used for the chassis, weapons and wheels. You can add something to the tread of the wheels for extra grip on the arena floor. Otherwise if I can touch it, it has to be plastic. It's ok to epoxy or screw 3D printed components together, it's ok if the heads of the screws are visible, as long as they're only used for minimal support - like attaching the top onto the sides of the robot, or gluing two 3D printed parts together at the seam if they'd be bigger than the 3D printer base. Motors, electronics, axles, fasteners and adhesives can be any material, but cannot be used in such a way to enhance the structural integrity, armor the robot, or enhance any weapon. No other types of plastics or materials allowed (No, Carbon-fiber, kevlar, and fiberglass are not polymers, nor are plastics supplemented with them like NylonX or Onyx)
This event is to encourage the use of 3Dprinters and design software, as well as helping you to learn the basics of building your own open class Combat Robot.
Trophies will also be 3D Printed :)

Robot may be disqualified at the Event Organizer's discretion if it is deemed to violate the spirit of the class. Contact the event organizer ahead of time if you are not sure your robot meets the above definition.
All entry fees go to help out MakerSpace Charlotte.

Event information:
Location: MakerSpace Charlotte,
1801 North Tryon St
Suite 611
Charlotte, NC 28206
on north side of building
Check-in and safety inspections: Saturday 8-9:30am
Builders' meeting: 9:30am
Competition: 10:00am-till we are done.
Release form and payment due at check in.
Release Form located at; http://www.carolinacombat.com/Agreement.pdf

Some important rules:
- No flame weapons.
- All Lipo batterys must be in a LiPo bag while charging.
- Bring your own power strips.
A weapon lock is required for all weapons.

Other Events by Carolina Combat Robots
Event
Date
Location
Robots
Hickory Bot Battles 2023

REGISTRATION OPEN

Sep 8, 2023
Hickory, NC, US
97 Robots
Clash of the Bots 2023

REGISTRATION OPEN

Jun 24, 2023
Gastonia, NC, US
67 Robots
Wreck The Halls 22/23
Jan 7, 2023
Charlotte, NC, US
9 Robots
Hickory Bot Battles 2022
Sep 23, 2022
Hickory, NC, US
66 Robots
Clash of the Bots 2022
Jun 25, 2022
Gastonia, NC, US
Wreck The Halls 2021 (Cancelled)
Dec 11, 2021
Charlotte, NC, US
14 Robots
Hickory Bot Battles 2021
Sep 25, 2021
Hickory, NC, US
57 Robots
Hickory Bot Battles 2020 (Cancelled)
Sep 25, 2020
Hickory, NC, US
67 Robots
COB 2020
Jun 13, 2020
Gastonia, NC, US
45 Robots
Wreck The Halls 2019
Dec 7, 2019
Charlotte, NC, US
9 Robots
HBB 2019
Aug 17, 2019
Hickory, NC, US
75 Robots
COB 2019
Jun 15, 2019
Gastonia, NC, US
44 Robots
Wreck the Halls 2018 (This Event)
Dec 15, 2018
Charlotte, NC, US
10 Robots
Hickory Bot Battles 2018
Aug 18, 2018
Hickory, NC, US
41 Robots
Clash of the Bots 2018
Jun 16, 2018
Gastonia, NC, US
Hickory Bot Battles 2017
Aug 19, 2017
Hickory, NC, US
28 Robots
COB 2017
Jun 24, 2017
Gastonia, NC, US
47 Robots
COB 2016
Jun 25, 2016
Gastonia, NC, US
43 Robots
COB 2015
Jun 6, 2015
Gastonia, NC, US
26 Robots
COB 2014
Jul 19, 2014
Gastonia, NC, US
32 Robots
Schiele Museum Clash Of The Bots 4
Jul 13, 2013
Gastonia, NC, US
19 Robots
Schiele Museum Clash Of The Bots 3
Jul 14, 2012
Gastonia, NC, US
42 Robots
Schiele Museum Clash Of The Bots 2
Jul 23, 2011
Gastonia, NC, US
14 Robots
Schiele Museum Clash of the Bots
Jul 24, 2010
Gastonia, NC, US
14 Robots
2010 Robot Rumble Bot Hockey
Mar 20, 2010
Durham, NC, US
1 Robot
CCR Memorial Day Qualifier
May 24, 2008
Greensboro, NC, US
16 Robots
Wreck-The-Halls
Dec 29, 2007
Greensboro, NC, US
10 Robots
Carolina Combat
May 5, 2007
Greensboro, NC, US
13 Robots