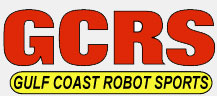 Gulf Coast Robot Sports 6
Bradenton, FL, US
August 14, 2010
Event Information
Organizer:

Gulf Coast Robot Sports




Location:

Bradenton, FL US


Get Directions

Starts:

Aug 14, 2010

Ends:

Aug 14, 2010
Robot Classes / Competitions
Category
Robot Class
Maximum
Capacity
Currently
Registered
Waiting
List
Entry
Fee
Pit Crew
Allowed
Combat
150 g - Fairyweight
Unlimited
None
None
10.00 USD
3 Per Robot
Combat
1 lb - Antweight
Unlimited
9 Robots
None
10.00 USD
3 Per Robot
Combat
3 lb - Beetleweight
Unlimited
6 Robots
None
10.00 USD
3 Per Robot
Combat
Unmodified 12 in. RC Toy
Unlimited
1 Robot
None
5.00 USD
3 Per Robot
Event Description
Come join the Robot MarketPlace / Hobby Marketplace on August 14th for our sixth GCRS event! Bring your meanest insect-class fighting robots. Standard double elimination and RFL regulations apply. This weekend promises to be a SMASH!

Date: August 14, 2010
Location: Bradenton, Florida, at the Hobby MarketPlace/Robot MarketPlace retail store:

5129A 53rd Ave E. (SR 70)
Bradenton, FL, 34203

Organizer: Jim Smentowski
Web site: http://www.robotmarketplace.com/products/GCRS.html
call with questions: (941) 749-6030 or email jim@robotmarketplace.com

Weight classes: 150g fleaweight, 1lb Antweight, and 3lb Beetleweight. (RFL rules)
PLUS NEW- Unmodified 12" RC Toy class- see special rules below**

For standard insect classes:
All active kinetic weapons that are legal in the RFL ruleset are permitted, we have a fully enclosed and safe arena.
Arena has a 12" wide drop zone on two sides and is fully enclosed by lexan. Floor is stainless steel.

**Introducing our entirely new combat class! 

UNMODIFIED 12" RC TOY CLASS

Rules for this new class: 
No weight limit! 
Must fit inside a 12 inch diameter circle (NO exceptions)
Must be completely UNMODIFIED as it is directly from the manufacturer. No adding on wedges, weapons, etc.
Must be completely RC operated, any frequency, no tethers. 
Any RC vehicle allowed, as long as it is completely STOCK. NO entries that are originally designed as combat robots (i.e. VDD bots). 

The only modifications allowed are paint/stickers and repairs that do not change the original functionality.
Matches are a standard three minutes, with the winner determined by push-out, knock out, or crowd decision. 

Registration fee only $10 per robot (except for RC Toy class, which has half price registration @ $5), enter as many as you like.

Weigh-in starts at 9am, competition starts at 11am.

Gift Certificate Prizes will be awarded to the winners of each weight class.

*if there are fewer than 3 robot entries in any one weight class, that class tournament will be canceled.
Other Events by Gulf Coast Robot Sports
| Event | Date | Location | Robots |
| --- | --- | --- | --- |
| Gulf Coast Robot Sports - 11 | Dec 8, 2012 | Bradenton, FL, US | 19 Robots |
| Gulf Coast Robot Sports - 10 | Jan 14, 2012 | Bradenton, FL, US | 15 Robots |
| Gulf Coast Robot Sports-9 | Nov 12, 2011 | Bradenton, FL, US | 15 Robots |
| Gulf Coast Robot Sports-8 | Aug 6, 2011 | Bradenton, FL, US | 18 Robots |
| Gulf Coast Robot Sports-7 | Jun 18, 2011 | Bradenton, FL, US | 19 Robots |
| Gulf Coast Robot Sports 6 (This Event) | Aug 14, 2010 | Bradenton, FL, US | 16 Robots |
| Gulf Coast Robot Sports-5 | Jun 5, 2010 | Bradenton, FL, US | 16 Robots |
| Gulf Coast Robot Sports-4 | Jan 2, 2010 | Bradenton, FL, US | 18 Robots |
| Gulf Coast Robot Sports-3 | Oct 24, 2009 | Bradenton, FL, US | 12 Robots |
| Gulf Coast Robot Sports-2 | Jul 11, 2009 | Bradenton, FL, US | 18 Robots |
| Gulf Coast Robot Sports | Mar 8, 2009 | Bradenton, FL, US | 8 Robots |