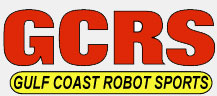 Gulf Coast Robot Sports-4
Bradenton, FL, US
January 2, 2010
Event Information
Organizer:

Gulf Coast Robot Sports




Location:

Bradenton, FL US


Get Directions

Starts:

Jan 2, 2010

Ends:

Jan 2, 2010
Robot Classes / Competitions
Category
Robot Class
Maximum
Capacity
Currently
Registered
Waiting
List
Entry
Fee
Pit Crew
Allowed
Combat
150 g - Fairyweight
Unlimited
4 Robots
None
10.00 USD
3 Per Robot
Combat
1 lb - Antweight
Unlimited
8 Robots
None
10.00 USD
3 Per Robot
Combat
3 lb - Beetleweight
Unlimited
6 Robots
None
10.00 USD
3 Per Robot
Event Description
Come join the Robot MarketPlace / Hobby Marketplace on January 2 for our fourth GCRS event! Bring your meanest insect-class fighting robots. Standard double elimination and RFL regulations apply. This weekend promises to be a SMASH!

Date: January 2, 2010
Location: Bradenton, Florida, at the Hobby MarketPlace/Robot MarketPlace retail store:

5129A 53rd Ave E. (SR 70)
Bradenton, FL, 34203

Organizer: Jim Smentowski
Web site: http://www.robotmarketplace.com
call with questions: (941) 749-6030 or email jim@robotmarketplace.com

Weight classes: 150g fleaweight, 1lb Antweight, and 3lb Beetleweight. (RFL rules)

All active kinetic weapons that are legal in the RFL ruleset are permitted, we have a fully enclosed and safe arena.
Arena has a 12" wide drop zone on two sides and is fully enclosed by lexan. Floor is stainless steel.

Registration fee only $10 per robot (any class), enter as many as you like.

Weigh-in starts at 9am, competition starts at 11am.

Gift Certificate Prizes will be awarded to the winners of each weight class.

*if there are fewer than 3 robot entries in any one weight class, that class tournament will be canceled.
Other Events by Gulf Coast Robot Sports
| Event | Date | Location | Robots |
| --- | --- | --- | --- |
| Gulf Coast Robot Sports - 11 | Dec 8, 2012 | Bradenton, FL, US | 19 Robots |
| Gulf Coast Robot Sports - 10 | Jan 14, 2012 | Bradenton, FL, US | 15 Robots |
| Gulf Coast Robot Sports-9 | Nov 12, 2011 | Bradenton, FL, US | 15 Robots |
| Gulf Coast Robot Sports-8 | Aug 6, 2011 | Bradenton, FL, US | 18 Robots |
| Gulf Coast Robot Sports-7 | Jun 18, 2011 | Bradenton, FL, US | 19 Robots |
| Gulf Coast Robot Sports 6 | Aug 14, 2010 | Bradenton, FL, US | 16 Robots |
| Gulf Coast Robot Sports-5 | Jun 5, 2010 | Bradenton, FL, US | 16 Robots |
| Gulf Coast Robot Sports-4 (This Event) | Jan 2, 2010 | Bradenton, FL, US | 18 Robots |
| Gulf Coast Robot Sports-3 | Oct 24, 2009 | Bradenton, FL, US | 12 Robots |
| Gulf Coast Robot Sports-2 | Jul 11, 2009 | Bradenton, FL, US | 18 Robots |
| Gulf Coast Robot Sports | Mar 8, 2009 | Bradenton, FL, US | 8 Robots |