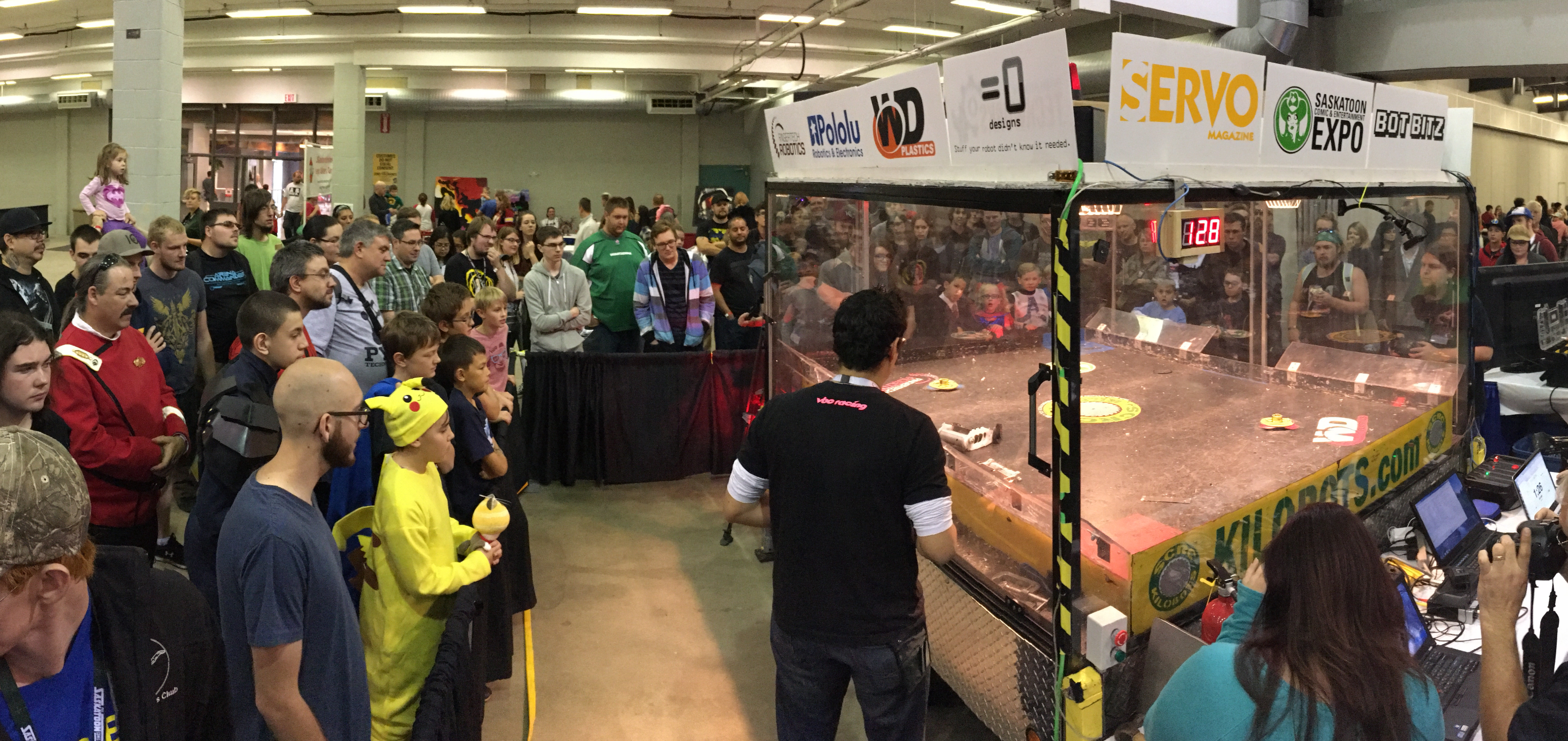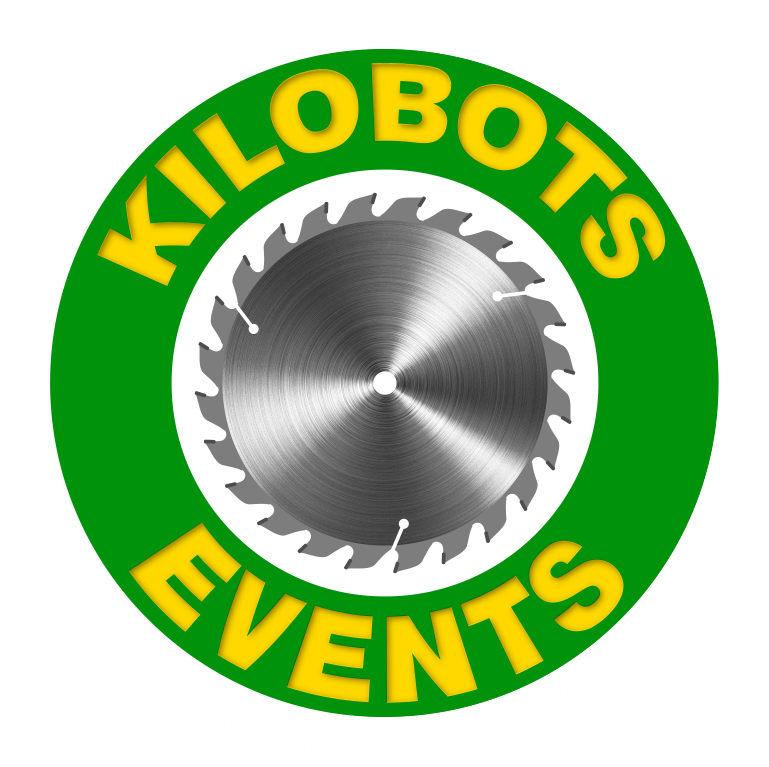 Kilobots Rookie Ruckus - March 2023
Saskatoon, SK, CA
March 25, 2023
Event Information
Organizer:

Kilobots Combat Robot Events




Location:

Unit 20 - 3111 Millar Ave
FingerTech Robotics HQ
Saskatoon, SK S7K6N3
CA
Get Directions

Starts:

Mar 25, 2023

Ends:

Mar 25, 2023

Website:

https://kilobots.com/
Robot Classes / Competitions
Category
Robot Class
Competition Name
Maximum
Capacity
Currently
Registered
Waiting
List
Entry
Fee
Pit Crew
Allowed
Combat
1 lb - Antweight
Antweight Rookies
16
8 Robots
None
0.00 CAD
Unlimited
Event Description
On March 25th we will be having our first Kilobots Rookie Ruckus event! These are to give teams a chance to work out the kinks in their designs between the larger more public events.
Hosted at FingerTech headquarters, this event is open to all builders, but to spectate please contact FingerTech in advance.
Times (may change depending on registration numbers): 12pm - 6pm Saturday.
Check-In and Safety Inspections begin at 11am Saturday.
Double-elimination tournament format if 8 or more entries, round robin if fewer.
Fees: $10 per team. Limit of 12 teams, but bring as many bots as you like!
Bring Your Own:
· Extension Cords and splitters
Other Events by Kilobots Combat Robot Events
Event
Date
Location
Robots
Kilobots 50 @ Calgary Maker Faire

REGISTRATION OPEN

May 13, 2023
Calgary, AB, CA
14 Robots
Kilobots XLIX @ Saskatoon Entertainment Expo

REGISTRATION OPEN

May 6, 2023
Saskatoon, SK, CA
Kilobots Rookie Ruckus - March 2023 (This Event)
Mar 25, 2023
Saskatoon, SK, CA
8 Robots
Kilobots XLVIII @ FingerTech HQ
Jan 21, 2023
Saskatoon, SK, CA
26 Robots
Kilobots XLVII @ FingerTech HQ
Sep 24, 2022
Saskatoon, SK, CA
18 Robots
Kilobots XLVI at the Calgary Maker Faire
May 14, 2022
Calgary, AB, CA
POSTPONED Kilobots XLV - RoboPalooza at Maker Faire 2020
May 30, 2020
Saskatoon, SK, CA
Kilobots XLIV - Calgary Robot Smash-Up
Oct 26, 2019
Calgary, AB, CA
Kilobots - 2019 Canadian National Championships
Aug 10, 2019
SK, , CA
Kilobots XLII - RoboPalooza at Saskatoon Maker Faire
May 25, 2019
Saskatoon, SK, CA
Kilobots XLI @ UofS Spectrum
Jan 12, 2019
Saskatoon, SK, CA
Kilobots - 2018 Canadian National Championships @ Sask Expo
Sep 15, 2018
Saskatoon, SK, CA
Kilobots XXXIX - RoboPalooza at Saskatoon Maker Faire
May 26, 2018
Saskatoon, SK, CA
Kilobots XXXVIII @ Center Mall
Jan 20, 2018
Saskatoon, SK, CA
Kilobots XXXVI @ Warman Legends Centre
Jun 16, 2017
Warman, SK, CA
Kilobots XVI @ SPECTRUM 2010
Jan 17, 2010
Saskatoon, SK, CA
25 Robots
Kilobots XIII
May 17, 2009
Saskatoon, SK, CA
19 Robots
Kilobots XII
Mar 30, 2008
Saskatoon, SK, CA
20 Robots
Kilobots XI
Nov 11, 2007
Saskatoon, SK, CA
21 Robots
Kilobots X, Spectrum 2007
Jan 21, 2007
Saskatoon, SK, CA
42 Robots
Kilobots IX
Feb 26, 2006
Saskatoon, SK, CA
27 Robots
Kilobots VII
Mar 6, 2005
Saskatoon, SK, CA
24 Robots
Kilobots VI
Oct 23, 2004
Humboldt, SK, CA
17 Robots
Kilobots V
Jun 27, 2004
Saskatoon, SK, CA
17 Robots
Kilobots IV
Mar 26, 2004
Saskatoon, SK, CA
10 Robots
Kilobots III
Jan 18, 2004
Saskatoon, SK, CA
14 Robots
Kilobots II
Aug 24, 2003
Saskatoon, SK, CA
12 Robots