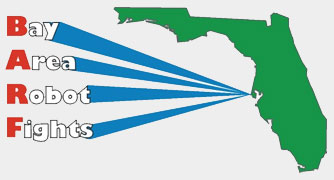 Bay Area Robot Fights 2004
St. Petersburg, FL, US
November 20, 2004
Event Information
Organizer:

TeamPyramid




Location:

St. Petersburg, FL US


Get Directions

Starts:

Nov 20, 2004

Ends:

Nov 20, 2004
Robot Classes / Competitions
Category
Robot Class
Maximum
Capacity
Currently
Registered
Waiting
List
Entry
Fee
Pit Crew
Allowed
Combat
150 g - Fairyweight
Unlimited
2 Robots
None
5.00 USD
Unlimited
Combat
1 lb - Antweight
Unlimited
7 Robots
None
10.00 USD
Unlimited
Combat
3 lb - Beetleweight
Unlimited
5 Robots
None
15.00 USD
Unlimited
Combat
6 lb - Mantis
Unlimited
None
None
15.00 USD
Unlimited
Event Description
TeamPyramid would like to extend an invitation to you to attend our upcoming event in St.Petersburg, Fl. Bay Area Robot Fights will be held on Nvember 20th in conjunction with the Pinellas Pioneer Settlement's Five Centuries of the Military Living History This will be a Skeeter weight, Ant weight, Beetle weight and introducing a new 6 lb. "Mantis" class event. Other weight class robots are welcome to attend to display their creations. If you don't currently have a robot you are still welcomed to attend as a spectator. Parking and admission are free.

Along with the robot fights there will be an exhibition of the military arts over the past 500 years.. This includes encampments and displays of all sorts of military personell and hardware.

Weigh-in, safety, and final registrations starting at 9:00 with the fighting starting at 10:00 and finishing up at 5:00.

Entry fees: $5 for Skeeter weights, $10 for Ant weights, and $15 for Beetle and Mantis weght robots.

Since this the Florida Insect Class annual Championship, the 1st 2nd place winners of this seasons events will receive a discount on their registration fees to be announced on our web site.
Other Events by TeamPyramid
| Event | Date | Location | Robots |
| --- | --- | --- | --- |
| Bay Area Robot Fights 2007 | Mar 3, 2007 | Tampa, FL, US | 18 Robots |
| Bay Area Robot Fights 2005 | Nov 19, 2005 | Tampa, FL, US | 23 Robots |
| Bay Area Robot Fights 2004 (This Event) | Nov 20, 2004 | St. Petersburg, FL, US | 14 Robots |
| Bay Area Robot Fights | Dec 13, 2003 | St. Petersburg, FL, US | 13 Robots |
The information displayed on this page was written and is managed by
TeamPyramid
.