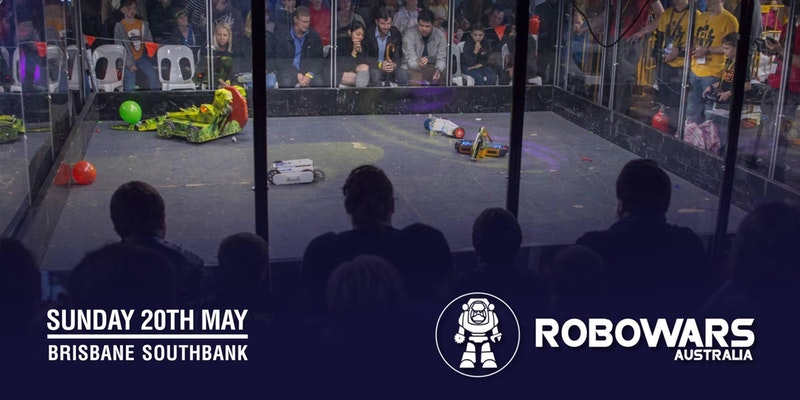 Australian Robowars Nationals 2018
64 Adelaide St, Brisbane, AU
September 29 - September 30, 2018
Event Description
Every year the Robowars Nationals gets bigger, this year we are hoping once again to top Australia's biggest and best event. This years event will be a test of Australia's best robots to see who is the champion in the southern part of the world.
The event style this year will be a double elimination tournament for featherweight robots. The event will be run on the 29th & 30th of September in Brisbane Australia. The quota will be set at 32 robots so get your rego in ASAP. Robot entries will be curated so make yours entertaining, competitive and ready to battle.
*Pls note this event will be filmed. All competitors will be asked to assign rights to film their robots and their likeness within the Australian region to Robowars Australia. The event will be orgainsed by the Queensland Robotic Sports Club and promoted and administered by Robowars Australia.
Other Events by Robowars Sportsman Cup
Event
Date
Location
Robots
Robowars Sportsman Cup
Apr 15, 2023
Hamilton QLD 4007, Australia, US
Robowars Sportsman Cup 2023
Jan 14, 2023
Brisbane City QLD 4000, Australia, US
Australian Robowars Ant and Beetleweight Nationals 2020
Jan 18, 2020
Tribune Street, QLD, AU
Australian Robowars Nationals 2019

REGISTRATION OPEN

Oct 19, 2019
Brisbane City QLD 4000, Australia, US
Robowars: Robotronica Rebellion

REGISTRATION OPEN

Aug 18, 2019
Brisbane City QLD 4000, Australia, US
Australian Robowars Antweight Nationals 2018

REGISTRATION OPEN

Oct 1, 2018
Ipswich QLD 4305, Australia, US
Australian Robowars Nationals 2018 (This Event)

REGISTRATION OPEN

Sep 29, 2018
64 Adelaide St, Brisbane, AU
Robowars ICRA 2018

REGISTRATION OPEN

May 20, 2018
South Brisbane QLD 4101, Australia, US
Robowars Nationals 2017
Aug 21, 2017
Brisbane, QLD, AU
37 Robots
Robowars Nationals 2017

REGISTRATION OPEN

Aug 19, 2017
Sydney NSW 2000, Australia, US
Robowars Vivid Sydney 2017

REGISTRATION OPEN

Jun 11, 2017
Sydney NSW 2000, Australia, US
Robowars Vivid Sydney 2017
Jun 11, 2017
Sydney, NSW, AU
23 Robots
Robowars Sportsman Cup
Dec 11, 2016
Gladstone, QLD, AU
7 Robots
Australian Robowars Nationals 2016
Aug 21, 2016
Canberra, ACT, AU
38 Robots
Robowars Sydney 2016
Jun 5, 2016
Sydney, NSW, Australia
12 Robots
Australian Robowars Nationals 2015
Oct 11, 2015
Ipswich, QLD, AU
31 Robots
Robowars Sydney 2015
May 31, 2015
Sydney, NSW, AU
7 Robots
Australian Robowars Nationals 2012
Jan 10, 2012
Brisbane, Queensland, US
43 Robots
The Edge 2
Nov 28, 2010
Brisbane, QLD, AU
28 Robots
The Edge
Jun 26, 2010
Brisbane, QLD, AU
12 Robots
Ideas Festival 2009
Mar 30, 2009
Brisbane, QLD, AU
21 Robots