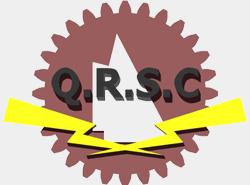 Australian Robowars Nationals 2016
Canberra, ACT, AU
August 21 - August 19, 2016
Event Information
Organizer:

Robowars Sportsman Cup




Location:

Canberra, ACT AU


Get Directions

Starts:

Aug 21, 2016

Ends:

Aug 19, 2016
Event Description
The Robowars Nationals 2015 is now in its 6th year. The event will be held in collaboration with Big Boys Toys and National Science week.

The main completion will be for 30lb Featherweight robots. Registration includes robot entry, two pit passes and one T-shirt. A maximum of TWO people will be allowed in the pits per robot. If you wish to have more these may be purchased.

There will also be a sportsman competition. This will be grudge matches, three way fights and exhibition matches taking place in between the featherweight competition.

If you wish to register multiple featherweights a refund for the cost of the T-shirt is available. Note registration of a single robot without this is not available.

Places are limited register now.
Other Events by Robowars Sportsman Cup
Event
Date
Location
Robots
Robowars Sportsman Cup
Apr 15, 2023
Hamilton QLD 4007, Australia, US
Robowars Sportsman Cup 2023
Jan 14, 2023
Brisbane City QLD 4000, Australia, US
Australian Robowars Ant and Beetleweight Nationals 2020
Jan 18, 2020
Tribune Street, QLD, AU
Australian Robowars Nationals 2019

REGISTRATION OPEN

Oct 19, 2019
Brisbane City QLD 4000, Australia, US
Robowars: Robotronica Rebellion

REGISTRATION OPEN

Aug 18, 2019
Brisbane City QLD 4000, Australia, US
Australian Robowars Antweight Nationals 2018

REGISTRATION OPEN

Oct 1, 2018
Ipswich QLD 4305, Australia, US
Australian Robowars Nationals 2018

REGISTRATION OPEN

Sep 29, 2018
64 Adelaide St, Brisbane, AU
Robowars ICRA 2018

REGISTRATION OPEN

May 20, 2018
South Brisbane QLD 4101, Australia, US
Robowars Nationals 2017
Aug 21, 2017
Brisbane, QLD, AU
37 Robots
Robowars Nationals 2017

REGISTRATION OPEN

Aug 19, 2017
Sydney NSW 2000, Australia, US
Robowars Vivid Sydney 2017

REGISTRATION OPEN

Jun 11, 2017
Sydney NSW 2000, Australia, US
Robowars Vivid Sydney 2017
Jun 11, 2017
Sydney, NSW, AU
23 Robots
Robowars Sportsman Cup
Dec 11, 2016
Gladstone, QLD, AU
7 Robots
Australian Robowars Nationals 2016 (This Event)
Aug 21, 2016
Canberra, ACT, AU
38 Robots
Robowars Sydney 2016
Jun 5, 2016
Sydney, NSW, Australia
12 Robots
Australian Robowars Nationals 2015
Oct 11, 2015
Ipswich, QLD, AU
31 Robots
Robowars Sydney 2015
May 31, 2015
Sydney, NSW, AU
7 Robots
Australian Robowars Nationals 2012
Jan 10, 2012
Brisbane, Queensland, US
43 Robots
The Edge 2
Nov 28, 2010
Brisbane, QLD, AU
28 Robots
The Edge
Jun 26, 2010
Brisbane, QLD, AU
12 Robots
Ideas Festival 2009
Mar 30, 2009
Brisbane, QLD, AU
21 Robots