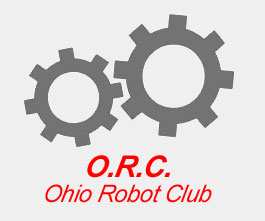 HORD @ ColossalCon 2016
Sandusky, OH, US
June 4, 2016
Event Information
Organizer:

Ohio Robot Club




Location:

Kalahari Resort
7000 Kalahari Dr.
Sandusky, OH 44870
US
Get Directions

Starts:

Jun 4, 2016

Ends:

Jun 4, 2016
Robot Classes / Competitions
Category
Robot Class
Maximum
Capacity
Currently
Registered
Waiting
List
Entry
Fee
Pit Crew
Allowed
Combat
150 g - Fairyweight
32
2 Robots
None
5.00 USD
Unlimited
Combat
1 lb - Antweight
32
11 Robots
None
5.00 USD
Unlimited
Combat
3 lb - Beetleweight
32
6 Robots
None
5.00 USD
Unlimited
Event Description
ORC is pleased to announce that House of Robotic Destruction 2016 will be held during ColossalCon 2016 at Kalahari Resort Indoor Water in Sandusky OH. HORD will be one of many events and actives at ColossalCon. We have been given a number of free ColossalCon day pass for our competitors, and family members.

This event will be open to Flea weights (150 grams) Ant weights (1 lb) and Beetle weights (3 lbs). Fights will be structured in a modified double elimination tournament format, the finial will be fought as single elimination (no do over if loser bracket finalist wins). Weight class with less than 6 robots may fight round robin if a majority of drivers agree. We will be using the RFL rule set on our webpage ( http://www.ohiorobotclub.com/orc_2010_tech_tegs.pdf ).

This will be a public event with lots of spectators, ColossalCon draws thousands of convention goers and is promoting HORD as a feature event. This is a great opportunity to promo robot combat please help us by demonstrating good sportsmanship and good showmanship.

We have a number of sponsors that will be providing great prizes and awards.
Dimension Engineering; https://www.dimensionengineering.com/
FingerTech Robotics; http://www.fingertechrobotics.com/
SERVO Magazine; http://www.servomagazine.com/
ServoCity.com; https://www.servocity.com/

Tentative schedule
Arena Setup: 7:00am - 8:00am
Check and Safety; 8:00am - 10:00am
Drivers Meeting; 10:00am - 10:30am
Fight Session 1; 10:30am - 12:30pm
Lunch; 12:30pm - 1:00pm
Fight Session 2; 1:00pm - 3:30pm
Awards; 3:30pm - 4:00pm
Clean Up; 4:00pm - 5:30pm
Out the door 5:30pm

We have to completely out of the room 5:30pm to allow the next activity using that room to setup. Please arrive early with robots ready to pass safety inspection (please review rules section 4). Also help setting up and tearing down the arena is greatly appreciated.

About ColossalCon;
Colossalcon is a Japanese animation convention held in Northern Ohio during the beginning of June each year, and prides itself with being the region's kick-off to the start of summer vacation. Our location, the Kalahari Resort and Convention Center in Sandusky, Ohio, is a unique location, which offers a large convention center, plenty of accommodations and dining options, and the largest indoor waterpark in the country. Only minutes away from Cedar Point, Mills Creek Golf Course and historic downtown Sandusky, as well as an easy drive to Put-in-Bay and downtown Cleveland, Colossalcon is a premier beginning of summer destination.

Each year, we bring out notable voice actors and industry guests to be a part of our convention, with programming which features them throughout the weekend, as well as autograph sessions which are free to our attendees. In past years we have brought out such guests as Wendee Lee, Michael Coleman, Amy Tipton, Jamie McGonnigal, Christine Auten, Stephanie Sheh, Aaron Dismuke, Caitlin Glass, Vic Mignogna, Michelle Ruff, Melissa Fahn, Travis Willingham, Laura Bailey, Chuck Huber, Brad Swaile, Wendy Powell, Chris Cason, Todd Haberkorn, Leah Clark, Christina Vee and J. Michael Taum.

While Colossalcon is a Japanese anime convention, we offer a wide variety of programming options throughout the course of the weekend which include costume contests, four dances, events and discussions featuring anime industry guests, game shows, and a wealth of panels about not only anime, but manga, video games and aspects of Japanese culture as well. We also have a large and spacious Dealer's Room for all of your anime shopping, an Artist Alley for hand-crafted goods and art, and our own version of a flea market, for people to swap and sell their unused anime merchandise.


Other Events by Ohio Robot Club
Event
Date
Location
Robots
House of Robotic Destruction at ColossalCon 2022

REGISTRATION OPEN

Jun 3, 2023
Sandusky, OH, US
52 Robots
House of Robotic Destruction at ColossalCon 2022
Jun 4, 2022
Huron, OH, US
HORD 2021 @ MAPS Air Museum
Sep 18, 2021
Akron, OH, US
26 Robots
HORD @ ColossalCon 2020
Sep 5, 2020
Sandusky, OH, US
HORD @ ColossalCon 2019
Jun 1, 2019
Sandusky, OH, US
43 Robots
HORD @ ColossalCon 2018
Jun 2, 2018
Sandusky, OH, US
49 Robots
HORD @ ColossalCon 2017
Jun 3, 2017
Sandusky, OH, US
40 Robots
HORD @ ColossalCon 2016 (This Event)
Jun 4, 2016
Sandusky, OH, US
19 Robots
HORD @ Con the COB 2015
Oct 17, 2015
Richfield, OH, US
18 Robots
HORD 2014
Aug 23, 2014
Brunswick, Ohio, US
18 Robots
HORD 2013
May 4, 2013
Brunswick, Ohio, US
22 Robots
HORD 2012
May 19, 2012
Brunswick, Ohio, US
18 Robots
HORD 2011
Sep 24, 2011
Brunswick, OH, US
19 Robots
HORD fall 2010
Sep 25, 2010
Akron, OH, US
15 Robots
HORD Spring 2010
May 15, 2010
Brecksville, OH, US
21 Robots
HORD Fall 2009
Sep 19, 2009
Strongsville, OH, US
10 Robots
HORD Spring 2009
May 9, 2009
Brecksville, OH, US
26 Robots
Hord Fall 2008
Sep 13, 2008
Strongsville, OH, US
19 Robots
HORD Spring 2008
Apr 19, 2008
Brecksville, OH, US
20 Robots
HORD Fall 2007
Nov 3, 2007
Brecksville, OH, US
17 Robots
HORD Spring 2007
May 19, 2007
Strongsville, OH, US
31 Robots
HORD - Fall 2006
Oct 21, 2006
Omsted Falls, OH, US
15 Robots
H.O.R.D. Spring 2006
May 20, 2006
Olmsted Falls, OH, US
19 Robots
Detroit Bug Battle 3
Oct 22, 2005
Ann Arbor, MI, US
8 Robots
The information displayed on this page was written and is managed by
Ohio Robot Club
.