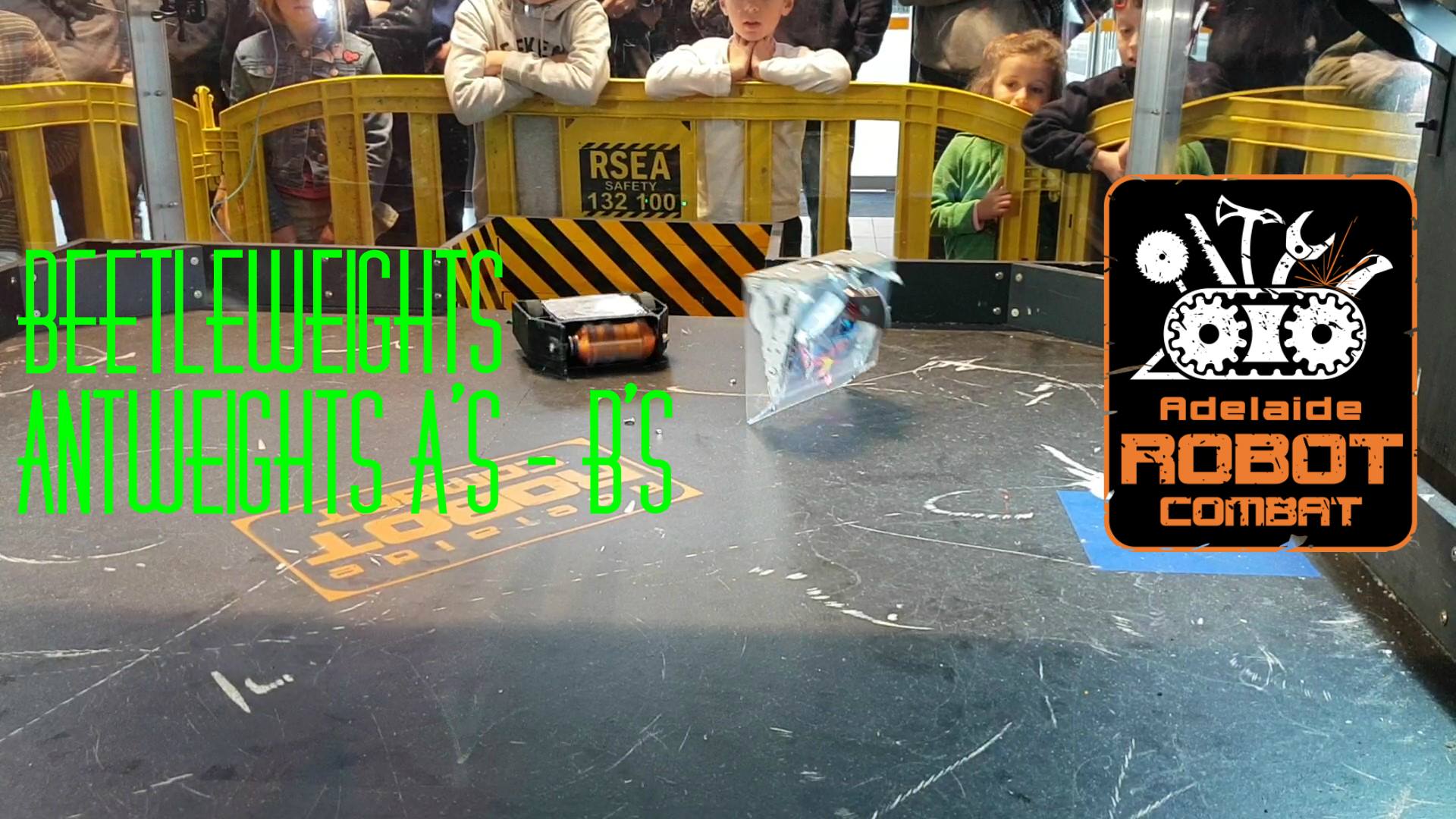 Adelaide Robot Combat - 10
St Clair SA 5011, Australia, US
Oct 7, 2018 - Oct 7, 2018
Event Description
ARC's Tenth meet of 2018!  A/B/2v2 Antweight Leagues only. No Beetleweights this month. Everyone is welcome to come and either compete or spectate. Competitors can bring their own robots or hire a loan robots for the night. Time: Registration is strictly from 12.30pm to 1.15pm.
Tournaments will start at 1.30pm.
Weight Classes: 150 gram Antweight (not enforcing the 4x4x4 inch UK size rule).
Following the SPARC rulesets. http://sparc.tools/ and our modified ruleset (found in our group's file section). Registration Cost:  - $10 to register any number of Antweight robots in any tournament per roboteer.* - $10 to hire a house loan bot in Antweight B League.* - Spectators FREE! *This goes towards our running venue costs and towards improving our event and adding equipment (arena upgrades!!!).
Other Events by Adelaide Robot Combat
Event
Date
Location
Robots
Adelaide Robot Combat Robot Havoc 5

REGISTRATION OPEN

Aug 7, 2022
Goodwood Rd, Wayville, AU
Adelaide Robot Combat Robot Havoc 4
Nov 20, 2021
Wayville SA 5034, Australia, US
Adelaide Robot Combat - July 4th Antweights
Jul 4, 2021
111 Woodville Rd, St, AU
Adelaide Robot Combat
May 9, 2021
111 Woodville Rd, St, AU
Adelaide Robot Combat League
Jan 16, 2021
111 Woodville Rd, St, AU
Adelaide Robot Combat - As and Bs
May 5, 2019
St Clair SA 5011, Australia, US
Adelaide Robot Combat Meet
Mar 3, 2019
St Clair SA 5011, Australia, US
Adelaide Robot Combat - 10 (This Event)
Oct 7, 2018
St Clair SA 5011, Australia, US