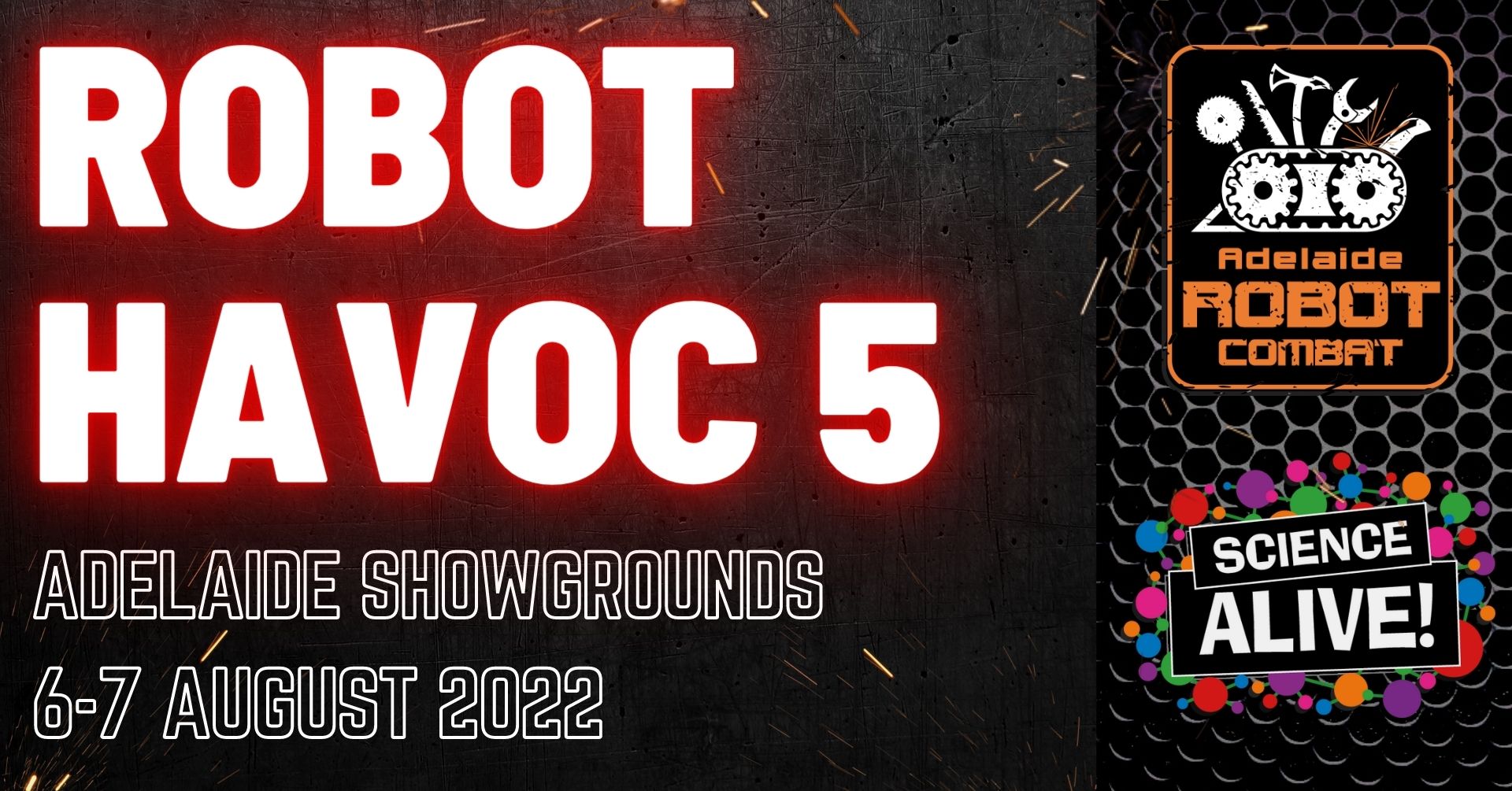 Adelaide Robot Combat Robot Havoc 5
Goodwood Rd, Wayville, AU
August 7 - August 8, 2022
Event Information
Organizer:

Adelaide Robot Combat




Location:

Adelaide Showground
Goodwood Rd, Wayville SA
AU
Get Directions

Starts:

Aug 7, 2022

Ends:

Aug 8, 2022
Registration
| | |
| --- | --- |
| Starts: | May 27, 2022 00:05 UTC |
| Ends: | Jul 2, 2022 00:07 UTC |
Registration for this event is not hosted on the Builders Database.

This link will take you off the site.
Registration Link
Robot Classes / Competitions
Category
Robot Class
Competition Name
Maximum
Capacity
Currently
Registered
Entry
Fee
Pit Crew
Allowed
Combat
1 lb - Antweight
A League
Unlimited
None
0.00 USD
Unlimited
Combat
1 lb - Antweight
B League
Unlimited
None
0.00 USD
Unlimited
Combat
3 lb - Beetleweight
32
None
0.00 USD
Unlimited
Combat
30 lb - 30lb Sportsman's Class
32
None
0.00 USD
Unlimited
Event Description
It's Adelaide Robot Combat's big annual event! This year we're hosted by Science Alive again which will be held at the Adelaide Showgrounds!
**More details to come, make sure to check your emails for when we have more event info to share**
Click down below to register your bots. Remember to assign the matching class to your bot.
Registration cost for each tournament will be applicable, specific pricing will be communicated later. Teams will be given passes to the Science Alive event.
The following classes will be competing in round robin tournaments followed by single elimination finals (no loan bots will be available for hire in this event).
A League Antweights (150g Destructive) - 32 Spaces available
B League Antweights (150g Plastic Class) - 32 Spaces available
Beetleweights (1.36kg/3lb) - 32 Spaces available
Sportsman (13.6kg/30lb) - 32 Spaces available
Please have a look at our modified SPARC ruleset. It outlines a few minor changes for our events, along with custom transmitter details.
Note 1: B League Antweights are now Plastic Antweights so review the ruleset below for more info and please contact us with any questions you might have.
Note 2: Please pay attention to the unique rules for the Sportsman class.
Tournament weekend details:
Event days: August 6th and 7th.
Time TBA.
Each team will have free access to the event, you will recieve an email in the weeks prior with access details. Please send any friends or family to want to come to Science Alive this link to buy their tickets: www.sciencealive.net.au/
Unfortunately parking will not be provided for the event. We suggest using public transport to get to the event. Showgrounds Exhibitor parking can be prepurchaced closer to the event for $14.
Make sure that any 240V equipment that you will bring with you gets tested and tagged. This will be a requirement of the venue.
STEM day:
STEM day: August 5th.
Science Alive hosts a STEM day for students to come and visit on the Friday before the main public weekend.
We won't be hosting a tournament on this day but we welcome competitors to come and set up and do safety checks this day.
Time TBC.
We would welcome as many as can make it to help us have a strong presence on the STEM day to answer questions and maybe get some kids into combat robotics!!
Spectators: Refer to www.sciencealive.net.au for ticketing info for Science Alive
Bump in details: Specific details on where to arrive will be sent out closer to the event. We expect bump in will be from around 7am on the Saturday so please allow for this.
Set Up: We will be setting the arena and equipment up on Wednesday the 4th. Please let us know if you can help out - helpers will need additional to do a safety induction. Any help will be welcome!
Please keep checking here or on our Facebook event listing for updated information.
See you all there!
Other Events by Adelaide Robot Combat
Event
Date
Location
Robots
Adelaide Robot Combat Robot Havoc 5 (This Event)
Aug 7, 2022
Goodwood Rd, Wayville, AU
Adelaide Robot Combat Robot Havoc 4
Nov 20, 2021
Wayville SA 5034, Australia, US
Adelaide Robot Combat - July 4th Antweights

REGISTRATION OPEN

Jul 4, 2021
111 Woodville Rd, St, AU
Adelaide Robot Combat

REGISTRATION OPEN

May 9, 2021
111 Woodville Rd, St, AU
Adelaide Robot Combat League

REGISTRATION OPEN

Jan 16, 2021
111 Woodville Rd, St, AU
Adelaide Robot Combat - As and Bs

REGISTRATION OPEN

May 5, 2019
St Clair SA 5011, Australia, US
Adelaide Robot Combat Meet

REGISTRATION OPEN

Mar 3, 2019
St Clair SA 5011, Australia, US
Adelaide Robot Combat - 10

REGISTRATION OPEN

Oct 7, 2018
St Clair SA 5011, Australia, US