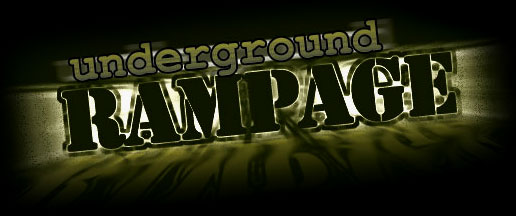 Underground Rampage
Rochester, NY, US
September 25 - September 24, 2005
Event Information
Organizer:

Synergy Robotics Entertainment




Location:

Rochester, NY US


Get Directions

Starts:

Sep 25, 2005

Ends:

Sep 24, 2005
Robot Classes / Competitions
Category
Robot Class
Maximum
Capacity
Currently
Registered
Waiting
List
Entry
Fee
Pit Crew
Allowed
Combat
150 g - Fairyweight
Unlimited
None
None
5.00 USD
1 Per Robot
Combat
1 lb - Antweight
Unlimited
8 Robots
None
5.00 USD
1 Per Robot
Combat
3 lb - Beetleweight
Unlimited
6 Robots
None
5.00 USD
2 Per Robot
Combat
12 lb - Hobbyweight
Unlimited
5 Robots
None
5.00 USD
2 Per Robot
Combat
30 lb - Featherweight
Unlimited
1 Robot
None
5.00 USD
2 Per Robot
Combat
60 lb - Lightweight
Unlimited
1 Robot
None
5.00 USD
3 Per Robot
Event Description
Fun, fun, fun for the hardcore LW and below competitors. This will be an all night/one night event. Starting at 8:30pm and going until 5:30am. Check in will be during the afternoon at Rochester. More details to come regarding check in and tech inspections. All competitors will be issued a competitors badge that will get you in the facility. Travel light...pit space will be limited. We will be "borrowing" pit space in the areas of the daytime competitors. Powerstrips and possibly chairs are a good idea. More info to come!

All entry fees... $5

Standard RFL Rules apply, with the exception of shuffler bonus. 50% Shuffler bonus is in effect at this event.
Other Events by Synergy Robotics Entertainment
| Event | Date | Location | Robots |
| --- | --- | --- | --- |
| Rotunda Rumble | Apr 27, 2008 | Minneapolis, MN, US | 25 Robots |
| 2006 RFL Nationals | Aug 13, 2006 | Minneapolis, MN, US | 14 Robots |
| Pre-Nationals Last Chance Qualifier | Aug 11, 2006 | Minneapolis, MN, US | 20 Robots |
| Underground Rampage (This Event) | Sep 25, 2005 | Rochester, NY, US | 21 Robots |
| NPC Charity Open | Jul 4, 2004 | Anoka, MN, US | 114 Robots |