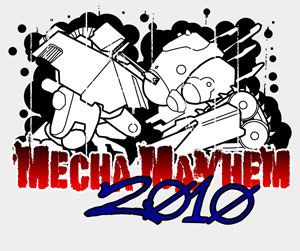 Mecha-Mayhem 2010
Rosemont, IL, US
October 24 - October 23, 2010
Event Information
Organizer:

Chicago Robotic Combat Association




Location:

Rosemont, IL US


Get Directions

Starts:

Oct 24, 2010

Ends:

Oct 23, 2010
Robot Classes / Competitions
Category
Robot Class
Maximum
Capacity
Currently
Registered
Waiting
List
Entry
Fee
Pit Crew
Allowed
Combat
150 g - Fairyweight
32
1 Robot
None
0.00 USD
Unlimited
Combat
1 lb - Antweight
32
3 Robots
None
0.00 USD
Unlimited
Combat
1 lb - Auto-Ant
32
None
None
0.00 USD
Unlimited
Combat
3 lb - Beetleweight
32
12 Robots
None
0.00 USD
Unlimited
Combat
3 lb - Auto-Beetle
32
None
None
0.00 USD
Unlimited
Event Description
*Note: I want to apologize to those who had already registered for the event. It was accidentally deleted while I was working on the 2011 event. Please re-register.*
Mecha-Mayhem will be back in 2010 for our 4th annual event. The CRCA is dedicated to making Mecha-Mayhem the best insect robotic combat event anywhere. To achieve this goal we offer: arguably the best small bot arena anywhere; the largest cash prizes in these weight classes; an incredible venue; awesome awards; and a paid builder dinner.
One of our builders had the following to say about the 2008 event:
"Mecha-Mayhem was the best insect event ever, great insect arena; best I have seen any where, great management of the brackets and great bunch of bots to fight against. It was the only event I every come away from with a positive cash flow. So you can add on best prizes of any insect event. "
-Bill Kelly (Team Discover Magnetics)

For 2010 we plan to maintain this level of excellence, to produce an insect event of unmatched quality.

The CRCA is collaborating with the Hobby Manufacturers Associations iHobby Expo to produce Mecha-Mayhem 2010, slated for October 23rd thru 24th. The iHobby Expo is the international showcase for the newest electronic hobbyist technology, models, and valued miniature collectables. Held at the Donald E. Stephens Convention Center in Rosemont, Illinois, the HMAs iHobby Expo is now in its 26th year, with a projected attendance of more than 20,000 for 2010. As the largest event of its kind in the world, the iHobby Expo is the perfect showcase for Mecha-Mayhem for years to come.

Alongside the CRCA, the Chicago Area Robotics Group will be running their annual Chibotica autonomous robotics problem-solving competition. At this annual event, dozens of the brightest amateur and pro robotics engineers will compete in "thinking robot" challenges: escaping mazes, robot combat sumo, and other complex tasks. Showing yet another dimension of this thrilling pursuit.


Schedule:
Thursday Friday October 21nd-22rd:
Open for demos
Showing Off
Sponsor Hunting
Early Check-in
NOTE: No Competition

Saturday October 23th:
9am – 10:15am: Check-in Safety
10:15am-10:30am: Drivers Meeting / Prep
10:30am-12:00pm: Combat
12:00pm – 1:30pm: Lunch
1:30pm – 3:00pm: Combat
3:00pm – 3:30pm: Break
3:30pm – 5:00pm: Combat
Evening: Bot Dinner

Sunday October 24th:
10:00am – 11:30am Combat
11:30am – 1:00pm: Lunch
1:00pm – 2:30pm: Combat
2:30pm – 3:00pm: Break
3:00pm – 3:30pm: Combat (Finals)
4:00pm - 4:30pm: Awards


Each day the building will be open at 8AM and close around 6PM. The expo is open to the public 10AM to 5PM. We will run combat during these hours. We are required by the show to have some down time so they can run other events, so we will likely have two 1 hour breaks during each day.


Rules:
Our rules can be found here: Mecha-Mayhem 2010 Rules.


Weight Classes Fees:


Pro Classes:
| | | | |
| --- | --- | --- | --- |
| Class | Wheeled | Non-Wheeled | Fee |
| 150g | 150 gram | 300 gram | FREE |
| Ant | 1 pound | 2 pound | FREE |
| Beetle | 3 pound | 6 pound | FREE |
Frequencies:
Because this is a hobby show and there are other groups running R/C equipment we will be limited to specific channels in the 75MHz band. They are 62,64,66,68,70,72,74,76,78, and 80. We are also allowed to run 2.4GHz and 900MHz systems.
Lodging and Air Travel:
The iHobby event has generously offered to extend their reduced rates to us. More info can be found at the iHobby website as it becomes available.
Other Events by Chicago Robotic Combat Association
| Event | Date | Location | Robots |
| --- | --- | --- | --- |
| Mecha-Mayhem 2014 | Oct 5, 2014 | Schaumburg, IL, US | 22 Robots |
| Mecha-Mayhem 2013 | Oct 6, 2013 | Schaumburg, IL, US | 15 Robots |
| Mecha-Mayhem 2012 | Oct 14, 2012 | Cleveland, OH, US | 19 Robots |
| Mecha-Mayhem 2011 | Oct 23, 2011 | Rosemont, IL, US | 51 Robots |
| Mecha-Mayhem 2010 (This Event) | Oct 24, 2010 | Rosemont, IL, US | 16 Robots |
| Mecha-Mayhem 2009 | Oct 25, 2009 | Rosemont, IL, US | 16 Robots |
| Mecha-Mayhem 2008 | Oct 19, 2008 | Rosemont, IL, US | 22 Robots |
| Mecha Mayhem 2007 | Oct 21, 2007 | Rosemont, IL, US | 17 Robots |