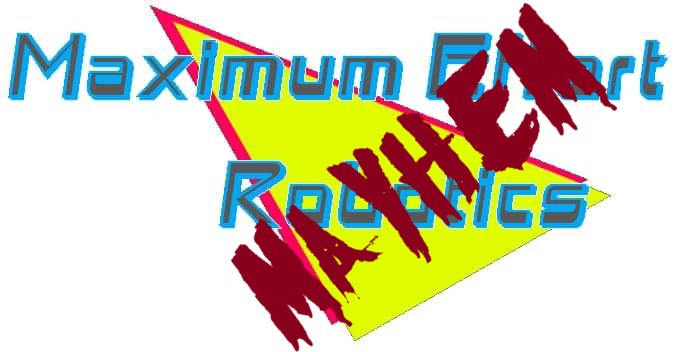 Maximum Mayhem
Chattanooga, TN, US
September 10, 2022
Event Organizers
Robot Classes / Competitions
Category
Robot Class
Maximum
Capacity
Currently
Registered
Waiting
List
Entry
Fee
Pit Crew
Allowed
Combat
150 g - Fairyweight
20
None
None
0.00 USD
Unlimited
Combat
1 lb - Antweight
20
None
None
0.00 USD
Unlimited
Combat
3 lb - Beetleweight
20
None
None
0.00 USD
Unlimited
Event Description
Hosted by MRO Inc. in Chattanooga, TN. Brought to you by the generous sponsorship of ItGresa (check them out for ALL of your robotics needs, combat and otherwise).
Maximum Effort Robotics present MAXIMUM MAYHEM.
Participants may enter more than 1 bot per class, we will do out best to allow everyone time for repairs.
The arena is 6X6 with a wood floor.
There is no charge to compete and will be double elimination style.
The competition will start at 10:00. You can arrive anytime after 8 to get ready.
We will try and coordinate a food truck or two to make it easier to get food, but coolers are welcome and there are restaurants nearby.
If you have any questions reach out to us on Facebook!
PRIZES IN ALL 3 WEIGHTCLASSES COURTESY OF OUR AWESOME SPONSOR ITGRESA
Other Events by Maximum Effort Robotics