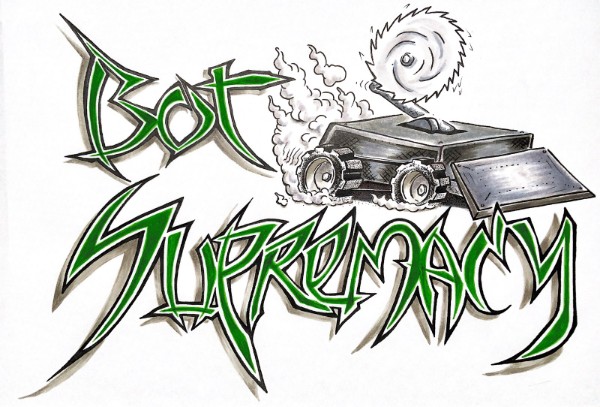 Bot Supremacy
New Baltimore, MI, US
April 24, 2022
Event Information
Organizer:

Bot Supremacy




Location:

35248 23 Mile Rd
New Baltimore, MI 48047
US
Get Directions

Starts:

Apr 24, 2022

Ends:

Apr 24, 2022
Robot Classes / Competitions
Category
Robot Class
Maximum
Capacity
Currently
Registered
Waiting
List
Entry
Fee
Pit Crew
Allowed
Combat
150 g - Fairyweight
Unlimited
None
None
Unlimited
Combat
1 lb - Antweight
Unlimited
None
None
Unlimited
Event Description
Only the strong survive!
Hosted @ the New Baltimore Trade Center.
This is an indoor event!
Robots:  Robots must meet the MRCA Robot Construction Specifications.  A LiPo charging bag must be used when charging your batteries.  Weapon locks and sharp edge covers must be used while the bot is outside of the arena.
Weight Classes: 1lb Antweight (24 spots available) 150g Fairyweight (8 spots available)
Cost: $15.00 per Fairyweight, $25.00 per Antweight, cash only paid at the event, OPEN TO SPECTATORS FREE OF CHARGE
Location:  This event will take place inside the Trade Center. Map of area layout on it's way!
Time:  Competitors can begin arriving at 8:30AM.  Safety will begin as soon as the arena is ready (around 10:00AM).   We want matches to start by 11:00AM. Please be on-site by 10:00AM so that we can get all of the robots through safety.  The facility closes at 6:00PM, so the event must be concluded by that time.
Facilities:  Tables and chairs are provided by the venue.  Bathrooms are onsite.  There are food vendors throughout the trade center, we ask that you do not bring your own food to the venue.  Bring your own power strips and extension cords, there will be plenty of outlets but they may be spread out.
Arena:  The arena is 4 ft x 4 ft x 2 ft tall with a wooden floor. 
Format: Dependent on number of entrants.  Robots registered in tournament will be guaranteed at least two fights.
Prizes:  Prizes for 1st, 2nd, and 3rd place finishers in each weight class.  Challenge coins will be given out for each match victory
Other Events by Bot Supremacy
Event
Date
Location
Robots
Bot Supremacy #004

REGISTRATION OPEN

Dec 4, 2022
Shelby Township, MI, US
Bot Supremacy #003
Aug 6, 2022
New Baltimore, MI, US
Bot Supremacy #002
Jun 25, 2022
New Baltimore, MI, US
Bot Supremacy (This Event)
Apr 24, 2022
New Baltimore, MI, US
The information displayed on this page was written and is managed by
Bot Supremacy
.