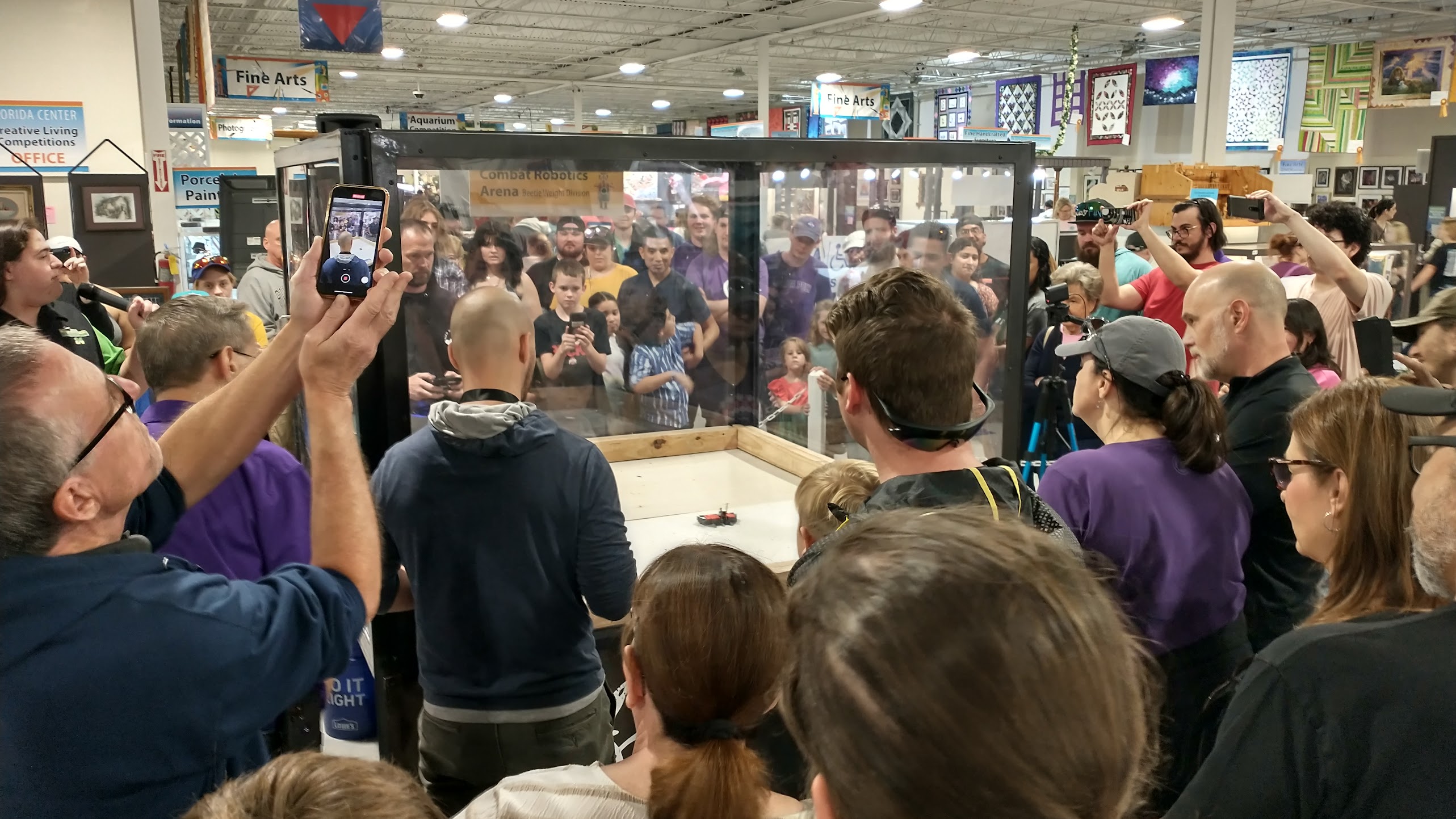 Florida State Fair Frenzy
Tampa, FL, US
February 18, 2023
Event Organizers
Robot Classes / Competitions
Category
Robot Class
Maximum
Capacity
Currently
Registered
Waiting
List
Entry
Fee
Pit Crew
Allowed
Combat
150 g - Fairyweight
Unlimited
11 Robots
None
20.00 USD
Unlimited
Combat
1 lb - Antweight
Unlimited
21 Robots
None
20.00 USD
Unlimited
Combat
3 lb - Beetleweight
Unlimited
10 Robots
None
20.00 USD
Unlimited
Event Description
2nd Annual Florida State Fair Frenzy
Last year's inaugural Florida State Fair Frenzy was such a hit, we've been invited to host again at the 2023 Florida State Fair! Held in the Florida Center at the Fair, all competitors receive tickets to enjoy the Fair after the event. The State Fair Frenzy is part of AMRoC Fab Lab's STEAMFest at the Fair .
Event Info
Classes: Fairy, Ant, Beetle
A pre-paid registration of $20 per bot is required, which goes towards prize money for the top winners in each class. Once your bot is approved, teams will get a link to pay their fee.
Prize Purse: Cash prize as a split on registration fees divided between first/second/third place.
Pits: Each team will have a table and power. Bring extension cords, power strips, lipo bags etc
Pre-Event email will have more detailed information about the event.
Schedule
Load In 10-11AM
Safety/Weigh In: 10:30AM
Fights start at noon and run at the top of each hour thru 6PM.
Rules: SPARC ruleset, plus:

Exposed batteries are automatic forfeits
One postponement
One unstick per fight (if you become unintentionally stuck)
No entanglements
Tapouts are allowed
Match length: TBD day of event, will be 2-3 minutes depending fight volume
Double Elimination with a double final if needed.
Tournament Results
Beetle Weight
1st Place- Rogers Robotics: Dropkick
2nd Place- Ram Robotics: Ramvac
3rd Place- Junk Yard Dog: Rougaroo
Ant Weight
1st Place- Purple Fire: Insomnia
2nd Place- BattleBobs: Jordan
3rd Place- Panzer Jagers: Looongish
Fairy Weight
1st Place- Kriegs Combat: Buckeye Bot
2nd Place-Kriegs Combat: Horseshow Havoc
3rd Place- Push Bot: Micro Mauler
Watch tournament video here: https://youtube.com/live/lJf3-Jd-gvk
Photo Gallery
Other Events by AMROC Fab Lab
The information displayed on this page was written and is managed by
AMROC Fab Lab
.